The Residence is one of my favourite apartment developments in Lancaster. The building is truly stunning, full of character and every apartment is different. The communal area feels more like a hotel lobby and the area is shrouded in Greenery. It truly is special. This is why we were surprised when Leah called us to see if we could help. Her apartment was already on the market. It was well priced yet it was failing to even get many viewings.
A friend of hers recommended that she call us and that where our story begins in late Summer 2020, the height of the property market, a time when almost everything was get snapped up……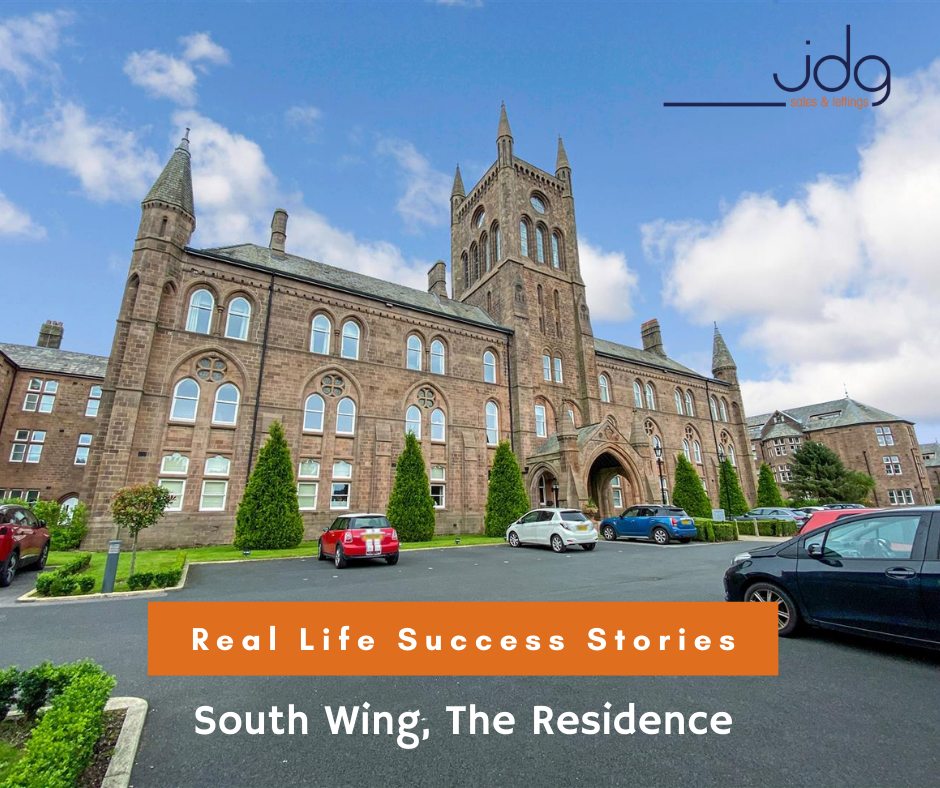 Address: South Wing, The Residence
Price: £135,000
Number of viewings: 4
Time sold in 2 weeks
About this home
This 1-bed apartment had been on the market for 202 days when Leah chose to swap to JDG. It was marketed as a 2nd-floor apartment. The photos looked bland, the photo angles did not really do the home justice. The home was listed on Rightmove but other than that the client had no idea what the agent was doing to try and sell her home. The communication was little and Leah spent most of the time chasing them.
What we did
The first thing we did before we even valued the property was to research the property so we knew exactly what we were dealing with. This included checking the square footage of the apartment so we knew how it compared to others that were up for sale. We took close attention to its positioning in the development and made a note of what we felt its key feature to be.
We met Leah via video call. She kindly showed us around. We quickly established this apartment was on the top floor and had a great roof terrace. The bedroom was bigger than the photos showed. However, the furniture placement was showing it off to its best. There were bi-fold doors that opened to a great terrace yet the past marketing didn't really highlight these well.
We quickly gave her some top styling tips. We asked her to buy a few plants for the terrace and add a table and chairs. A week later she was ready for photos. We worded the brochure very differently and enhanced the fact this was a top floor apartment with a roof terrace. We also created a video of the apartment. Despite the government guidance, her last agent hadn't done one.
The result
It took just 2 weeks to find Leah a buyer. We had 4 viewings, all from proceedable buyers. We went the offer which was from a buyer with nothing to sell.
Whilst things ran smoothly, there were some delays. The conveyancing process was taking longer and the surveyors had a backlog so the survey was delayed by 4 weeks. Then there was Xmas and lots of solicitors having to work from home. However despite the various obstacles, in early 2021 the completion took place.
Our seller was happy, so happy she gave us a great 5-star review on google and has already recommended our services to her family!

Are you thinking of moving? Wondering what your home might be worth? Why not try out our free, quick, online valuation tool? Just click here
https://valuation.jdg.co.uk/home/800-jd-gallagher