The names and address of the sellers of this home have been changed to protect identities and save embarrassment. This Halloween I could have chosen several different real stories to share with you. We have had the haunted house near the Boys Grammar School (the family selling all slept in one room of this 5 bed home as they were so scared ) and years ago a house on Scotforth Road which the previous owners had to get exorcised as doors kept slamming for no apparent reason - even our team were scared! This story though is slightly different but can be more related to by many.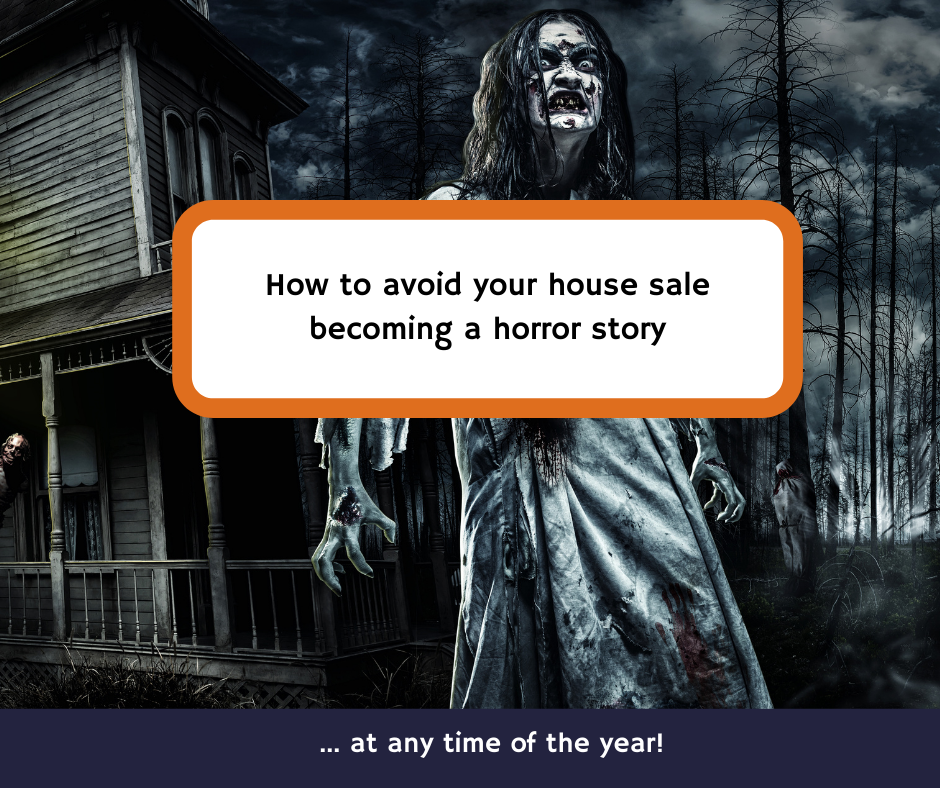 The background
David and Susan along with their 2 children had lived in their 3 bed terrace home for 10 years. They bought it as there was nothing to do and they hated DIY. They could just move in and live. It was close to the local schools. The kids though are now older and they wanted to move on to a detached house. They had even seen one they wanted to buy. The problem was they needed a quick sale on their home.
Their home
Their home was in a great location. They had seen that their neighbour's homes had sold quickly. Their home needed some work however they felt it was well-loved. So what it was tad cluttered. Surely any buyer could see that they had kids. And all kids draw on walls, don't they? The kitchen cupboards were all full, so they were using the work surface space as additional storage. The grouting in the bathroom was stained and there had been a little leak behind the kitchen tap. The carpets were stained in places but they saw it as well used. And buyers like to change things anyway….
Choosing an estate agent
David and Susan did as most local home sellers do. They invited out 3 agents to value their home for sale. The knew what they wanted for the home and wanted to get it on the market straightaway. Time was of the essence.
Agent Number 1 listened to what they had to say and agreed with everything they had to say, even down to the marketing price. He heard that they wanted on the market asap so took the photos there and then. If they decided they wanted to use him, he could have the house on the market the next day.
Agents Number 2 didn't really listen to their why. He showed the comparables of what had sold and suggested a price which was more realistic. They felt a bit upset that she called their home cluttered and her suggestion that they need to tidy up. However, this price was £10,000 less. He didn't even follow up on the appointment with a letter. They were disappointed.
Agent Number 3 did listen. They also made suggestions. In its current condition, this agent gave the same price as agent 2, but knowing they wanted more money, made suggestions of what they could to get a better price and sell quicker. Comparable evidence was also used to demonstrate what was happening in the housing market. This agent identified the leak behind the sink and also suggested some touching up of the decor and ways they could minimise the items in the house in order to make the home feel more spacious. Agent 3 could even recommend a handyman to help them with the jobs needed. If they did this - they could get the price they wanted.
What happened next?
David and Susan chose to market their home with Agent 1. They had the cheapest fee and had agreed with everything the owners said and wanted. The photos might have been rushed but David and Susan really though buyers could see past that.
Unfortunately, the house struggled to get viewings. After just 4 weeks on the market and only one call from their estate agent, they decided to reduce their price. In their defence it worked - but at a price that was even lower than the other two agents had recommended.
Next was the survey. This took weeks. They had to constantly chase their agent, as their agent wasn't calling them. Sadly the house sale fell through at the survey stage. They hadn't realised by not fixing the kitchen leak that it had affected the flooring and the survey came back showing damp and issues with the timbers. The sale fell through. Their agent couldn't really suggest anything other than to put it back on the market and possibly reduce the price further.
Our involvement
David and Susan called ourselves asking for advice. We were agent number 3 and we had already said our door was always open. We had kept in touch with market updates and our selling tips, plus they could see from our Facebook page what was selling.
This time they ready to listen. We explained that if they did nothing, ultimately they would just get the same result.
The first we did was arrange with them for a handyman to fix the leak and replace the section of floor that was damaged. We then had the same handyman tidy up the bathroom grouting. They painted the walls themselves and invested in toy boxes for the kid's toys and arranged to move some furniture out to show the rooms better. They changed the bedding for new white bedding and they de-cluttered the kitchen - this would make it show better and it would make moving day easier.
Next, we took time creating the brochure, highlighting the key features to buy, taking great photos. We made sure there was a floorplan. We created a marketing video and we created a tailored marketing campaign. It took just 3 weeks to find a buyer for the home.
The end result
Sadly they lost the home they wanted to buy. When the sale fell through with agent 1, that agent went on to re-sell it. Luckily though they did a find another home they loved.
What can we learn
The problem here wasn't just 1 event. It was a series of events. It began with the homeowner not maintaining the property properly. Next was the fact they house hunted before even getting their home valued. Then was the fact they didn't want to listen to any professional advice.
The 1st agent was so desperate to get the instruction for sale that they just agreed with the homeowner. They rushed the photos and didn't put any thought into a marketing plan. When the survey did finally come back, they didn't have the knowledge or resources in knowing how to deal with it. Sadly by the time they came back to us, almost 12 weeks had been wasted and they had found those 3 months very stressful.
When it comes to selling your home, you need to pick your estate agent carefully. Listen to their recommendations and advice. Look at the options available to you and check how they would handle any potential hurdles that occur along the way. Avoid your home move becoming one filled with horrors!
My name is Michelle Gallagher. I have been a valuer in Lancaster and Morecambe for 20 years. My husband John Gallagher is hands-on and has been selling and letting homes locally for over 30 years. Your home is your biggest tax-free asset. If we can help you with your home sale call us on 01524 843322.
Thanks for reading
Michelle