Lichfield Avenue is a superb, extended family home in the heart of Bare, one of the most in-demand areas of Morecambe. Homes in this area normally get snapped up in a matter of weeks, hence we were shocked when we were contacted by Jayne to see if we could help get her moved.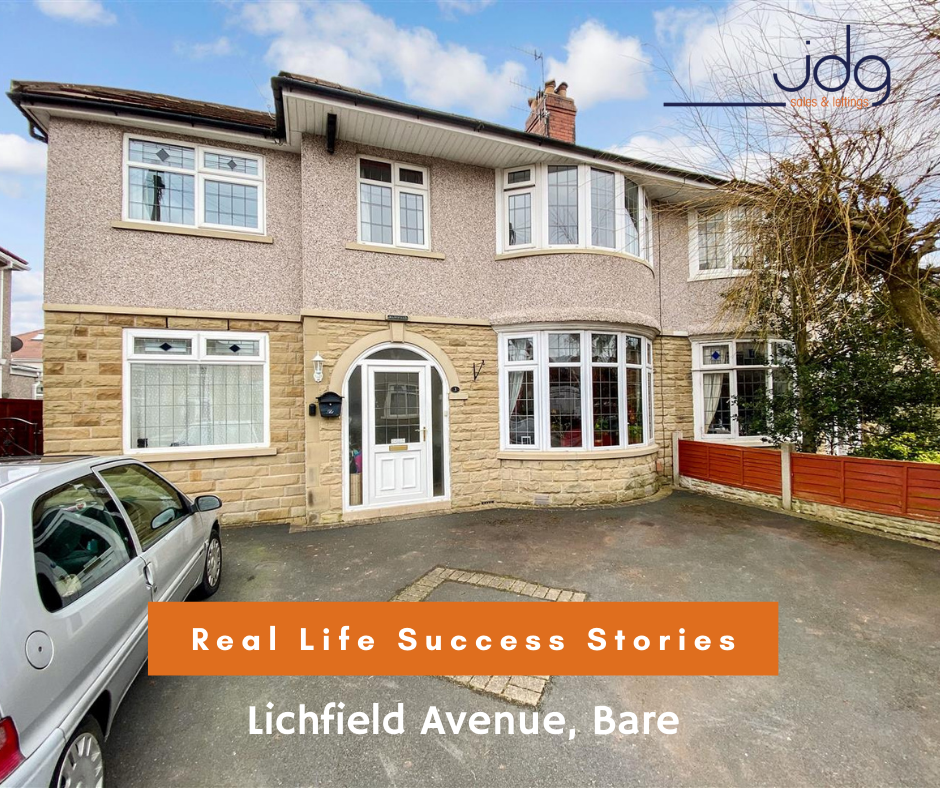 Jaynes home was immaculate. It was generously extended to the side, creating a small granny annexe that she has been letting out as an Air BnB. It had lots of living space and a very stylish kitchen. It had also been lingering on the market for over 12 months when Jayne called us. Admittedly - there had been lockdown one, however, this was still a considerable length of time! Their agent had suggested they reduce the price. Janyn'e friend suggested she call us!
Address - Lichfield Avenue, Bare
Price - £290,000
Sold for - £300,000
Number of viewings booked - 16
Number of offers - 2
Sold in 7 days
About this home
Lichfield Avenue is a superb, extended 4/5 bed family home with very spacious living. It has a unique layout, having been extended to the side to create a granny annexe. In recent years this annexe had been used as a successful air BnB. The location is superb, just a 10-minute walk from Bare Village and only 5 minutes from the beach.
When Jayne contacted us, she had been on the market for 436 days hence her frustration. All of her friends said she had a beautiful home. We had to agree. Interestingly she thought her marketing was good. We knew we could make improvements. She also liked her agent - most unusual when a home is struggling to sell and refreshing to hear. The problem was she didn't want to her reduce her price and that was their only suggestion to help revitalise interest. Her good friend Bobby, suggested she called us. Bobby had used our services several times before, hence she knew we could help.
What we did
The first thing we did was listen. We listened to the feedback Jayne had on her home and we looked closely as to where and how she was marketed. Her photos were average, but interestingly there were only 10. They were a bit dull and didn't really show off the space. That was the first area of improvement.
Next, we looked at the words in the brochure. It was very factual, very matter of fact. It didn't really tell a story. Next, we studied the marketing and how the property had gone stale. It was marketed on Rightmove and Zoopla. However, where was the social media marketing? There was no video tour.
We made a plan. The issue with this home wasn't the price. It was the marketing. The home had gone stale and we thought the agent had simply run out of ideas. We crafted our marketing plan. Our photos showed the home off far better and the blue sky on the photo made it stand out better online. We have an enhanced marketing plan, social media plays a big part. We also have a very large database of buyers and we called our buyer list.
The result
Very quickly we had 16 proceedable viewings booked. Proceedable means they are ready to buy. Within 7 days we had two competing two offers. We agreed on a sale of £300,000. This was £10,000 over the asking price and £30,000 more than the previous agent suggested she reduced the price too!
What we say
If your home is struggling to sell, sometimes a fresh approach can make a huge difference. If Jayne had taken the advice of her previous agent, it could have cost her £30,000. Does your home need a second opinion?