Since the chancellor announced the stamp duty holiday last week, we have had lots of questions from both house sellers and buyers across the region. We thought lets put together a quick 2-minute guide, which will explain and simplify it all.
What is Stamp Duty in the UK?
Stamp Duty is a tax that you normally have to pay to the government when buying a property in the UK. Stamp Duty tiered and dependent on the price you are paying, depends on the level of stamp duty you normally pay.
You also pay different levels of stamp duty depending if you are a first-time buyer, home mover, buy to let investor or 2nd homeowner.
What has changed?
In order to help kick start the economy, the chancellor has temporarily raised the stamp duty threshold. This means that any first-time buyers or home movers will not have to pay any stamp duty on any property or land purchase up to £500,000. The saving for some is up to £15,000.
The stamp duty holiday also gives a reduction to buy to let landlords and 2nd homeowners, although they will still have to pay the 3% surcharge as before.
This scheme is set to run until March 31st, 2021. Please remember though, you'll need to offer on your new home earlier than this to ensure you complete your purchase before this date and thus get the saving!
How much stamp duty will I pay now?
For the majority of Lancaster and Morecambe homeowners, £0 stamp duty will be paid, providing their purchase is below £500,000 and it is a property that they will be living in. 2nd homeowners and investors will still need to pay the 3% surcharge. We have simplified it in the table below.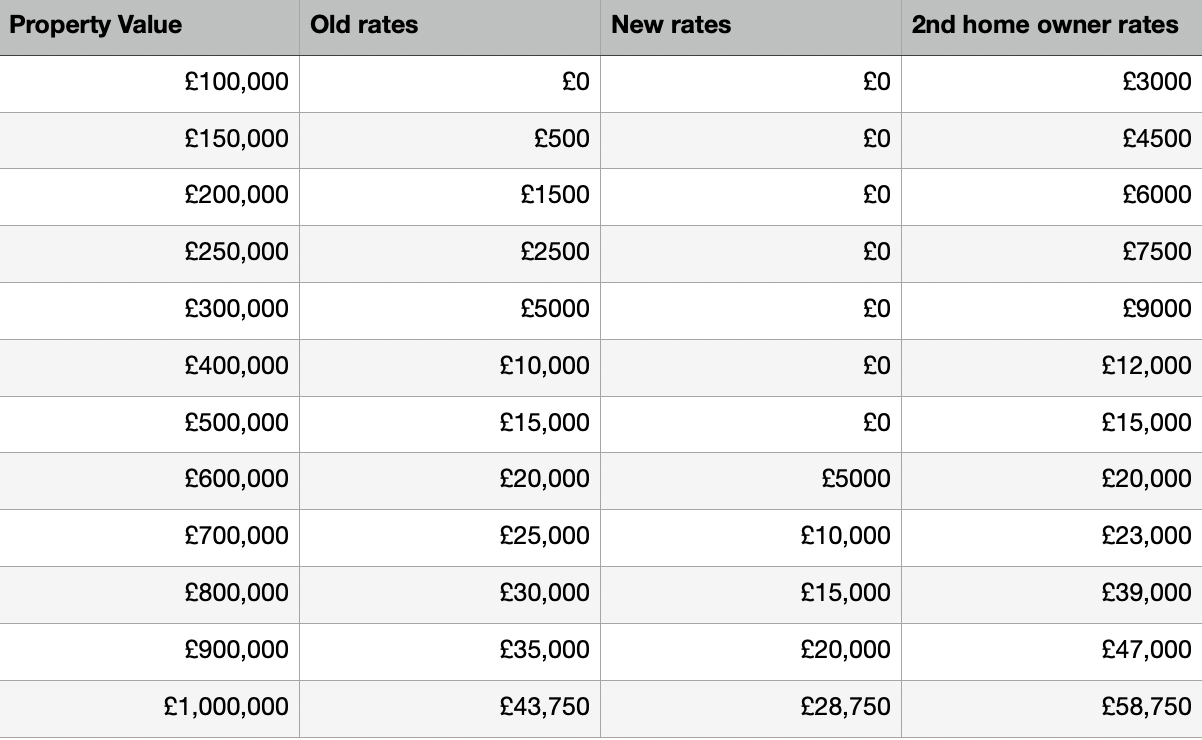 What does this mean for the Lancaster & Morecambe Property Market?
In the past 12 months, 1829 property sales were agreed across Lancaster & Morecambe. 1804 of these were under £500,000. What this means is that 98.6% of all sales would have qualified for a reduction in stamp duty or would not have paid any stamp duty. Most buyers in our local area will benefit from this scheme in the next 9 months.
This substantial saving will help more people afford to move. The savings made will mean they could invest in a more expensive house (by having a larger deposit) whilst others will have "spare" money to spend in the local economy. Clients have already told us that this saving means they can afford a new kitchen, another plans to have their new garden landscaped and one is going to use the stamp duty saving to pay for a family holiday. Hopefully, the governments' plans will not only help the people of Lancaster and Morecambe get moved, but it will also help the wider economy in the process.
My name is Michelle Gallagher. If you would like to discuss moving home, please get in touch. Call me on 01524 843322.
Ps. Here is a link to a handy stamp duty calculator! Just pop in the amount you are paying for your property and it will work out the exact figure you need to pay!
https://www.calculatestampduty.co.uk/index.cfm/stamp-duty-rates/