2020 is a year everyone is going to want to leave behind. At the very least it has been disruptive. For others, it has been destructive and we will all enter into January with the feeling of hope that things can only get better.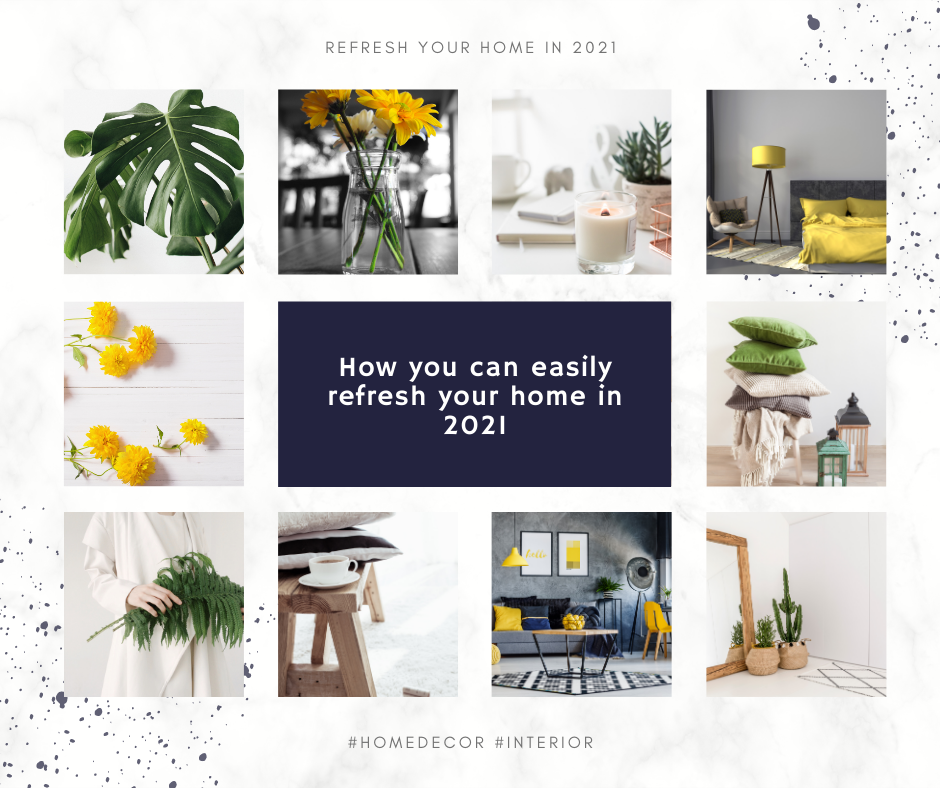 Some people will look for a fresh beginning and for many that is moving home. It really is the feeling of closing one door and opening a brand new one. Others will stay where they are but may give their home re-fresh, after all, it's amazing what you can do with a tin of paint and some really nice wallpaper. If this is you and you want a fresh start, our 5-minute read is just for you. It doesn't matter if you are moving or not, let's make your home look it's best!
De-clutter and get rid of anything broken
I always like to start in January with a big de-clutter. It's time to minimise on ornaments, clear worksurfaces and tidy out cabinets, drawers and cupboards. You'll find you'll have plenty of free space to hide other things away that you might not want to part with!
Get Cleaning
Give your home a deep clean, this includes behind the radiators, skirting boards and all those hidden way places that we often forget. Clean the windows, inside and out. Polish your taps, your sink and give the oven a clean. Your home will feel better for it. Don't forget those hard to reach cobwebs too!
Improve the natural light in your home
If your windows and blinds are clean, your natural light will improve. However, try pushing your curtains further back, or even swap darker coloured curtains for lighter ones. Add a large mirror, this will help the light bounce around better. Lighter homes naturally make people feel better in themselves as it increases Vitamin C in our bodies.
Make some minor decorating changes
You don't have to re-decorate your entire home to make a big impact. Consider a feature wallpaper to one wall. You can have fun by adding patterns and colour. After the dull year, we have had in 2020, 2021 is all going to about being cheerful. Even the Pantone Colour for 2021 is Illuminating yellow.
Re-arrange the furniture
Re-arranging furniture is something I love to do. By just re-positioning a coffee table, moving the sofas or equally taking excess furniture, we can create a completely new look. I'm always swapping my dining area with my lounge. By re-positioning furniture, you can also make your home flow much better!
Add some accessories
Adding new accessories can make a room feel different. Money might mean that you can't afford new furniture, but can you refresh the feel of your home with new accessories. Think soft furnishings such as cushions, rugs and throws. Change your artwork. Change your curtains. It will have a big impact!
Scent your home
How a home smells can make a huge difference both in the way we feel and the ways others feel when visiting our homes. Scent makes huge a difference. This is why luxury stores, posh hotels and spa's spend considerable time making sure they always smell beautiful. Begin with dealing with any unpleasant odours and then through diffusers, candles and room mists start layering the fragrance.
2021 is going to be a tough year however by following our simple tips, we hope we can help you spread a little happiness in your home. Thanks for reading and if we can help you with anything property related in 2021 please just ask. At JDG we are here to help. Call us on 01524 843322 or email me at michelle@jdg.co.uk
All the best for 2021
Michelle x