Hello, I'm Michelle Gallagher and this is the first Morecambe Property Report for January 2021. Each month, we'll be reporting on what is really happening in the Morecambe Property Market and the driving forces behind it.
If you've read my annual review, you'll know that the Morecambe Housing Market picked up considerably in the last few months of 2020 with house sale activity picking up by 21% in the last 5 months of the year. This was, in the main, fuelled by Rishi Sunaks announcing the stamp duty holiday.
2021 started slow. Nothing sold in the first few days in Morecambe. The 3rd lockdown brought the market to an almost halt. People's priorities quickly shifted to homeschooling. By the middle of the month, only 30 homes had gone under offer. And then something changed. People adjusted to their new of working and many realised that they really do need more space. The result was another 56 homes went on to sell, bringing the total to 86.
As we take a look at the figures closely, we can see people still want to get moved. Sales increased by 12% year on year. The number of average daily views on Rightmove almost doubled, fuelled, the press say, by The Bay TV Series being back on ITV!
What need to be concerned about is the drop in new properties coming to the market. This is happening across the UK. In some areas of the country, it is as high as 50%. In Lancaster new properties to the market dropped by a whopping 48%. In Morecambe, they have also dropped but by just 12%.
Let's take a look at the figures…..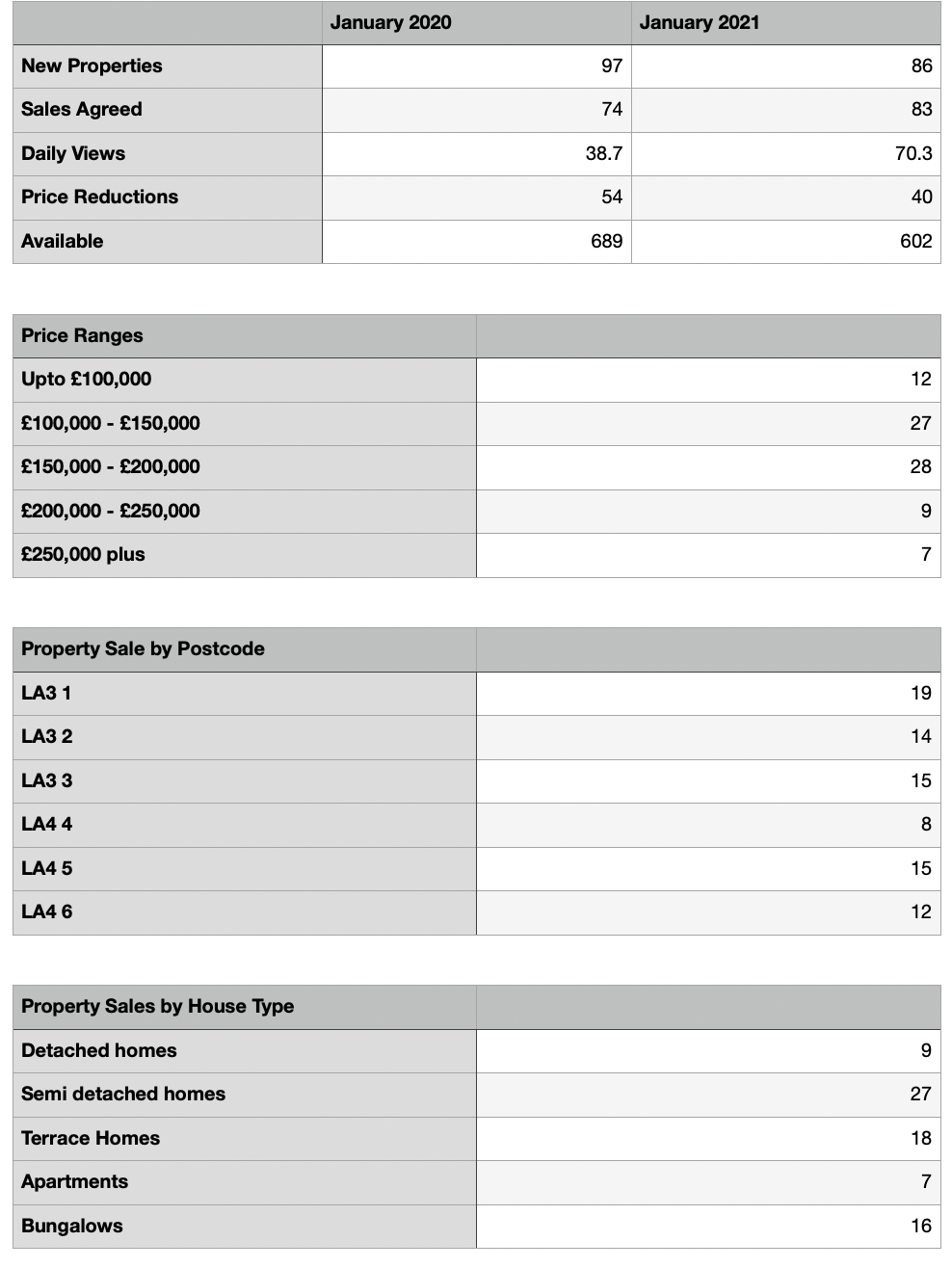 It is encouraging to see the increased interest in Morecambe and the positive light our town and coast are being portrayed in the media both with The Bay and the exciting Eden Project Plans. Investors are still looking to buy and many families are relocating to the coast, realising what we offer with our beautiful bay, fabulous views and very fresh air!
As we enter into February there are just 465 homes available for sale of which 116 (almost 25%) are apartments.
We have a shortage of semi-detached homes and detached homes and an ever-growing demand for bungalows. To give you an example a home we listed for sale on Oak Avenue in Bare last week had 18 viewings booked in just 2 days. It was snapped up very quickly. These buyers were all proceedable - either having sold their homes already or having nothing to sell. That is 17 disappointed buyers looking in Bare - if you have a 3 bedroom home, please get in touch!
At JDG Estate Agents we are to help. We have a desperate shortage of properties for sale in Morecambe. Over 80% of our Morecambe homes are now sold SSTC. Our role is to get you the best possible price. Our marketing works. If we can help you move, please call us on 01524 843322 or email me at michelle@jdg.co.uk
Thanks for reading
Michelle
Ps. This graph below shows you that our marketing works. Our marketing strategy gets more viewings on Rightmove as demonstrated below. We turn these online viewings into real viewings!