What a difference a full year makes. Just 12 month ago we were in a full lockdown and viewing of homes were not permitted. The few sales last year made were mainly from viewings that had taken place before lockdown, although at JDG we did have a couple of sales that purely viewed virtually!
Now we are 12 months on and the demand for homes across Lancaster is huge. Quite simply we can not get enough homes to fill buyer demand.
This year in April, 121 properties sold. To put things into perspective….
In 2020 it was just 8 - we were in full lockdown.
In 2019 it was 75.
in 2018 it was 87.
Interestingly though it was 8 sales less than last month. The big issue is stock. Month on month, more homes are selling than actually coming to the market. This is causing a huge supply and demand and issue.
Here are your figures for April 2020

Supply and Demand
The big issue in the housing market currently is supply and demand. As you can see above more homes are selling than actually coming on the market. This is causing a dwindling supply.
The property view number is a good indicator of demand. On a daily basis, the average property online is now getting 142 views. Daily views are at the highest when a property is new to the market. Because homes are getting snapped up quickly, this number is at the highest it has been for some time. We have just listed a home for sale in Slyne and it is currently averaging 972 daily views (this is over a 48 hour period!)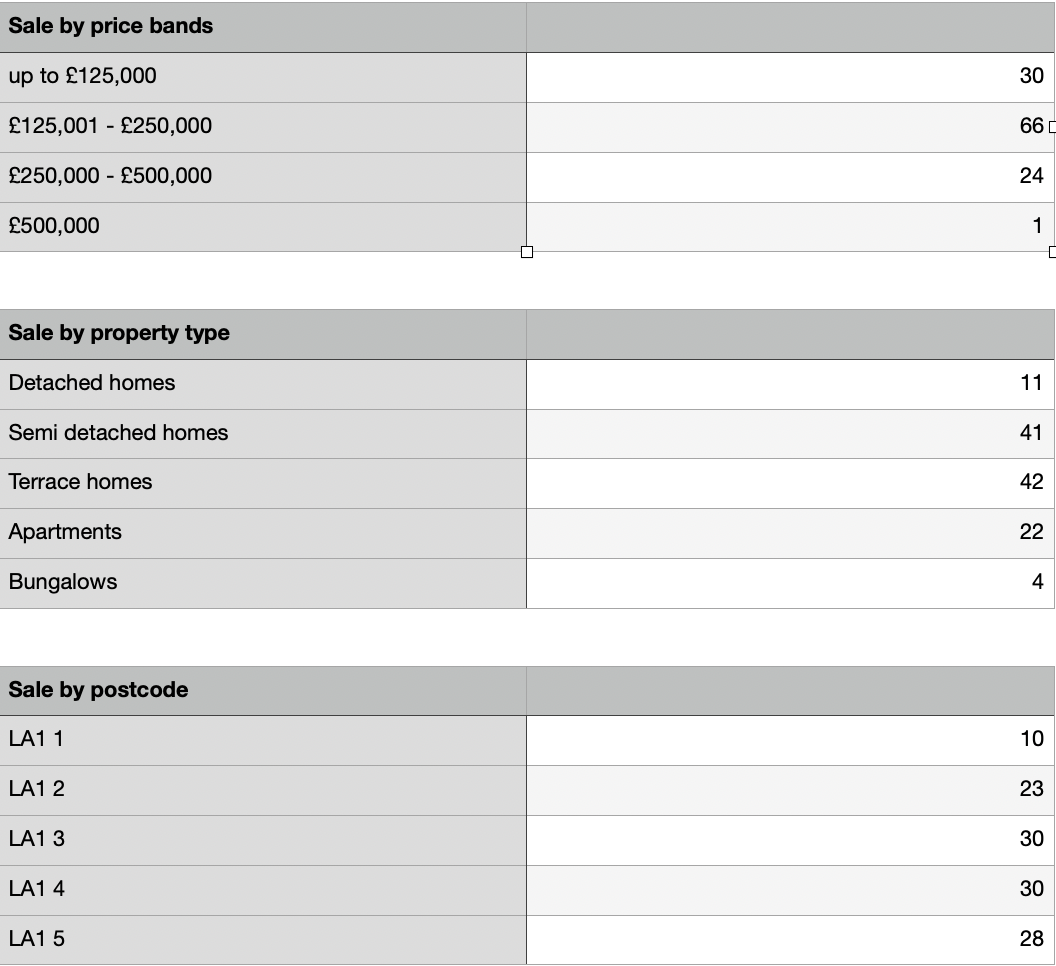 What is in demand?
Should that question be what isn't? As you can see above semi-detached and terrace homes have been far the most popular. We are finding home with gardens are getting snapped up. Immaculate homes sell very fast and often have multiple offers. And there is also a huge demand in the terrace market from student landlords all keen to buy before article 4 comes into force in November.
It is good to see that sales of apartments have continued to pick up, although, of the available properties in April, 141 were apartments. This is a 1/3 of all properties for sale.
Sales above £500,000
There are only 11 properties available for sale over £500,000, however, there is cooling at this end of the market, now that the stamp duty deadline in June is looming. Sellers who will be selling in this price range need to be aware that the length of time to find a buyer could be longer than in previous months.
Properties Prices
Property prices are increasing. The average semi-detached home is now worth £5000 more than it was back in February. The average semi-detached home now is £175,594. The average detached home is now £309,942 and the average terrace home is now £137,366.
Over the past 12 months, property prices are have increased by 5%. The biggest growth area is semi-detached homes which have jumped by 9.1%. Interesting apartments have only increased by 1.4%.
19 agents were involved with the 121 property sales in April. At JDG we agreed 28 of these sales (23.1% of all the sales). Many of our properties were snapped quickly. Stirling Road, Ullswater Road, both houses on Troutbeck Road and Jackson Close were just some of the homes that sold in days. Many homes had multiple competing offers. We really do need more homes to sell!
In April we registered another 281 people looking to buy locally. This takes us to over 1000 active buyers looking to be in our area. We know who these buyers are and what they are looking for.
Are you thinking of moving? Think JDG. We would love to help. Call us on 01524 843322
Thanks for reading
Michelle x
Ps. Here is the Sales graph for Lancaster - LA1 for April