If people expected the housing market to start to slow and prices dip after the June stamp duty deadline, I think we are safe to say they were wrong. The national press may have reported that property completions fell off a cliff in July, but when you look closer, it is only because many homer movers pushed for an earlier completion in June (before the £500,000 deadline expired.)
Houses in Lancaster are still getting snapped up at a rate of knots, with many homes selling in a matter of days, some selling even before they hit the open market - the only problem when this happens is, how does a seller truly know they are getting the best price?
Lancaster's housing market problem is now the lack of supply of new homes coming available for sale. By looking at the graph below you can quickly see that the lack of new stock coming to the market, coupled with sales levels that rival last year have created a big drop in homes actually available for sale.
Buyers are still actively looking, the average daily views on Rightmove shows this quite clearly, and here at JDG, we registered another 299 active buyers in August alone. The problem is when you look at the total number of homes that came available for sale, there is just not enough choice……
Here are your figures for August.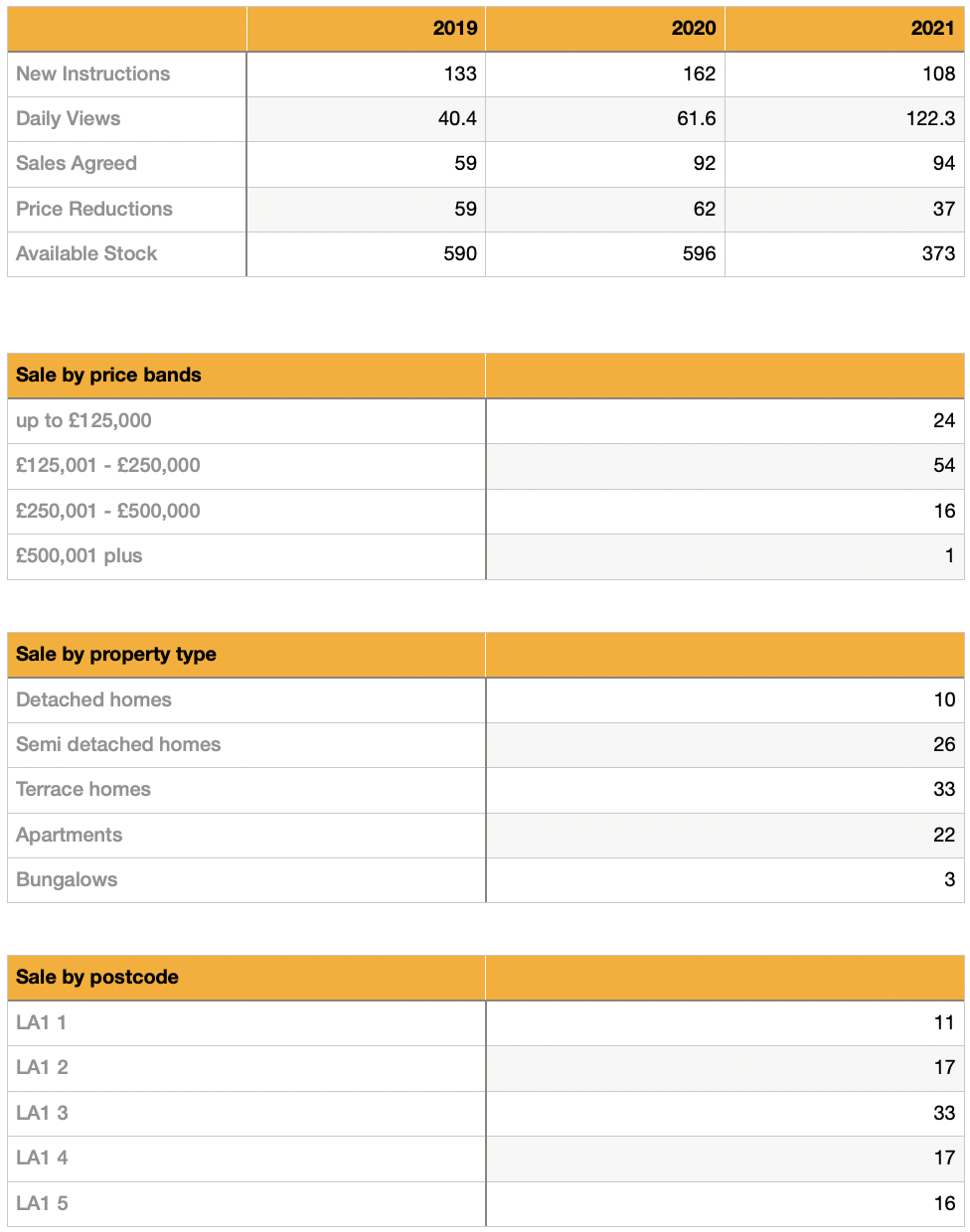 Property Prices in general
Property prices have once again risen in Lancaster ( LA1 ). In the last month, the average home has risen by £2528 to £163,745. This is an increase of 10.8% over the past 12 months alone. The average semi-detached home is now worth £181,746. The average terrace property is worth £147,089.
This month only 14 agents were involved with the 94 property sales in August. At JDG we agreed 26 of these sales which equates to 27.7% of all the property sales in Lancaster (LA1).
Many of our homes sold quickly. Many sold for the full asking price, several for over asking price. When you look closely at the figures we achieved 99.99% of the asking prices for our selling clients in August. A new home on Westham Street had 10 viewings booked in 24 hours, many of whom were registered on our buyer database. It received 8 offers and was one of our properties that sold for over the asking price. Salisbury Road and Stanley Place both sold in days and Grasmere Road in Freehold had 5 interested parties. Lots of our homes had to go to best and final offers. It is our job to negotiate the best price.
In August we also registered another 299 people looking to buy locally. We need to help these people find a home and many of the 280 buyers we registered in July are still looking to buy.
Are you thinking of moving? Think JDG. We would love to help. Call us on 01524 843322
Thanks for reading
Michelle
Ps. At JDG we like to do things differently. On the surface, many agents may appear the same and many proclaim to offer what we offer. However, how can they? We are a service industry. You can't replicate people.
Last month we looked at one of the reasons we achieve more sales and higher prices is due to the way our team conduct the viewings. This month I want to highlight that we market our homes is very different too.
Did you know that in August our homes were viewed on YouTube by over 5000 people who watched for 171 hours?
Or that on Rightmove our client's homes were viewed 270,351 times
Or that over on Facebook they were viewed 37,500 times with an engagement rate of 19,500. Plus 63 hours of property video watching took place.
We also sent out 7634 marketing emails to registered pre-qualified buyers on our database!
If you'd like to know more about how we do this, please ask us. At JDG we like to be transparent and we love to help!