It is interesting how the UK Housing Market has defied lockdown. Many people thought it was unsustainable, how can property prices increase and houses sell when the UK economy is struggling so badly? It is a question on people minds. City am are reporting that house prices have risen at their fastest rate since November 2015. The Daily Express expects the market to boom in 2021 and The Property Eye has reported the housing market recovery is set to be shaped like the Nike swoosh. Even over in Australia the housing market is performing exceptionally well, in fact - even better than the UK market. Property is in demand.
The biggest issue we are now seeing two-fold. First Time buyers are struggling to get on the property ladder due to the higher deposits requested by many of the banks, plus if they have been furloughed - several banks are shying away from lending. For those in the hospitality sector, this has become a real problem.
Investors are still looking. This week alone we have been asked a property investor to help him source 10 -15 South Lancaster properties suited to students. He has £3 million pounds to spend. We have another investor looking for two properties up to £130,000. And we have a family we have just sold for looking to spend up to £600,000 in the Lune Valley, yet can't find anything! We also have a demand for period homes with gardens. Can you help?
People are mindful of the stamp duty holiday deadline which will soon be looming. It's going to make for an interesting December which is historically is normally a quieter month.
Here are your figures for November.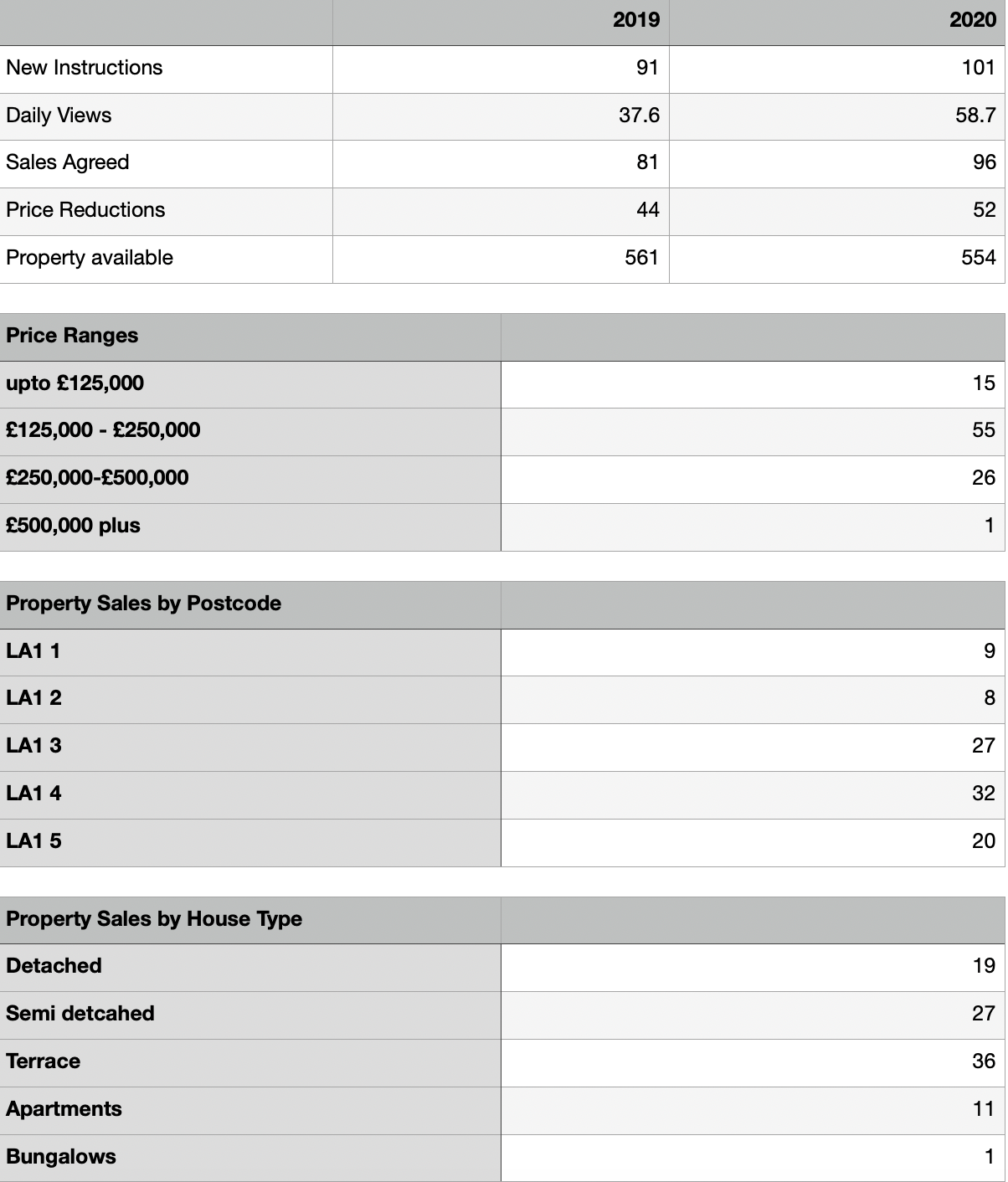 In the early part of November, as we entered the 2nd lockdown, the housing market slowed. New restrictions meant that only proceedable buyers could view and all non-essential travel was restricted. Hotels were closed. The number out of town buyers dropped. However as the month went on, a November recovery was seen. Sales figures were 15% less than October 2020 however still higher than November 2019. What is interesting to note is that the number of people looking on Rightmove jumped by 55% year on year. This is a good benchmark - buyers are still looking!
19 Estate Agents were involved with the 96 property sales agreed in November. At JDG we agreed 29 of these sales in November which equates to 30.2% of the market! We had some great successes. Detached homes at Knowsley Close, Knowe Hill Crescent, Cragg Road and Cassidy Drive were all snapped up quickly. Terrace homes on Lily Grove, Westham Street and Alexander Road sold fast. The problem now is we have a property shortage. We may have agreed 29 sales in LA1 but we only listed 17 new homes. We need more homes to sell!
If you are thinking of moving, please get in touch. At JDG we are here to help and achieve you the best possible price for your home. Call us on 01524 843322 or email me at michelle@jdg.co.uk
Ps. Here is the sales results graph for November 2020. Just click to download!