Welcome to the Lancaster Property Market Update for February 2022. New instructions up, sales down. What is going on in the Lancaster Housing Market? Last month we asked the question, is the Lancaster Housing Market starting to shows signs of stabilising? It's certainly looking that way. For the 2nd month in a row, there have been more properties listed for sale than are actually selling. The level of choice for buyers is still low, but slowly the choice is starting to grow.
It's too early to say if the crisis in Ukraine will have an impact, Covid is still a real issue however the number of buyers looking still remains very high. Buyers though are starting to look closer at value for money, hence there are over 100 homes in Lancaster that are struggling to sell.
Properties that are fairly priced in today's market are still getting snapped up. Almost 30% of all homes in Lancaster sold via our agency in February so we are well-positioned to state this. Rightmove continue to report that valuation requests are up. March is historically known as the start of the selling season so it will be interesting to see how this month pans out.
Here are your figures for February.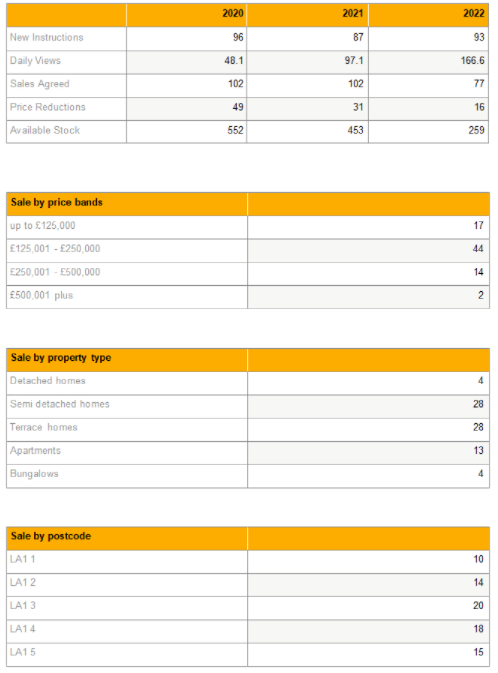 Property Prices
The average price of a home in Lancaster (LA1) now stands at £168,884. This is a decrease of £515. This is another sign that the Lancaster housing market is starting to steady. Prices though have still increased by 9.4% over the past 12 months.
What is really interesting is that terrace prices have increased by 11.4% yet detached homes have shown a drop of 0.9%. This could be a reflection of the higher end stamp duty holiday ending last June.
Buyer demand
Buyer demand is still high. It's jumped up from last month and now stands at 166.6 views per property. The demand in the main is for the 2 and 3-bed homes. 79% of all the sales were below £250,000 in February and we are still seeing high viewing numbers in this price category.
Struggling Properties
There may have only been 16 price reductions in February but this does not hide the fact that 85 of the 171 homes for sale, as we head into March, have been on the market for 3 months and longer.
There is a very fine line between wanting to get the price for your client and overvaluing. Please ask your estate agent if they can justify the marketing price they give you by showing you similar property sales.
This month 17 agents were involved with the 77 property sales in February. At JDG we agreed on 22 of these sales which equates to 28.5% of all the property sales in Lancaster (LA1).
It was a great month for JDG clients with many homes getting snapped up within days. Many sold for the full asking price, several for over asking price. When you look closely at the figures we achieved on average 99.6% of the asking prices for our selling clients in February, compared to an area average of 95.2%. A new home on Park Road had 34 viewings and received 10 offers. It sold over the asking price. Another home on Ashfield Avenue quickly had 11 viewings booked in. Bradshaw Street had to have an open day such was the viewing demand and received 9 offers. As you can see, buyers are still looking and actively buying! So far this year we have registered 608 new buyers on our system. We still have over 800 active buyers looking to buy locally. We need to help them find somewhere. Do you have a home to sell?
Are you thinking of moving? Think JDG. We would love to help. Call us on 01524 843322.
Thanks for reading
Michelle
Ps. Did you know? We have just been ranked as the Best Estate Agent in the UK by Rightmove and The Property Academy. This is the highest award for any estate agent in the UK. It is judged on 3 key elements - marketing, service and results. The results are the important part for you. On average we achieve 2% more for our clients than agents in our area!