The Lancaster Housing market has now been back fully open for 3 full months since lockdown started to ease in May. It's been an interesting time. Month by month, the number of new instructions have increased. The first few weeks were all about pent up demand. This was people who were already planning on moving but lives had been put on hold because of lockdown.
Then came those people whose living needs have altered. Lockdown had shown them what they really wanted and also needed from their home, hence the desire to move. Next in July, the government announced the stamp duty holiday and with that, more people than before decided now was the time to move and take advantage of this saving.
August has continued in the same way. Traditionally August is a quieter month in the Lancaster housing market, however, this year there has been a 54% increase in sales when compared to August 2019.
In August 2020, 162 homes went under. When you consider what is happening with the economy, fears of job losses and the uncertainty of the future, this is very encouraging for the Lancaster Property Market.
Here are your figures for August 2020

An increase in new instructions
It wasn't just the level of sales that increased in August, new instructions also increased by 22%, giving buyers a great choice of new properties to pick from. The overall number of homes to choose from though only increased marginally.
Daily Views
Over 50% more people are now house hunting than were in August 2019. We were of course in the midst of Brexit then and summer holidays abroad! This increase in daily views is reflected in the increase in sales. People aren't just browsing, they are buying!
What sold and where?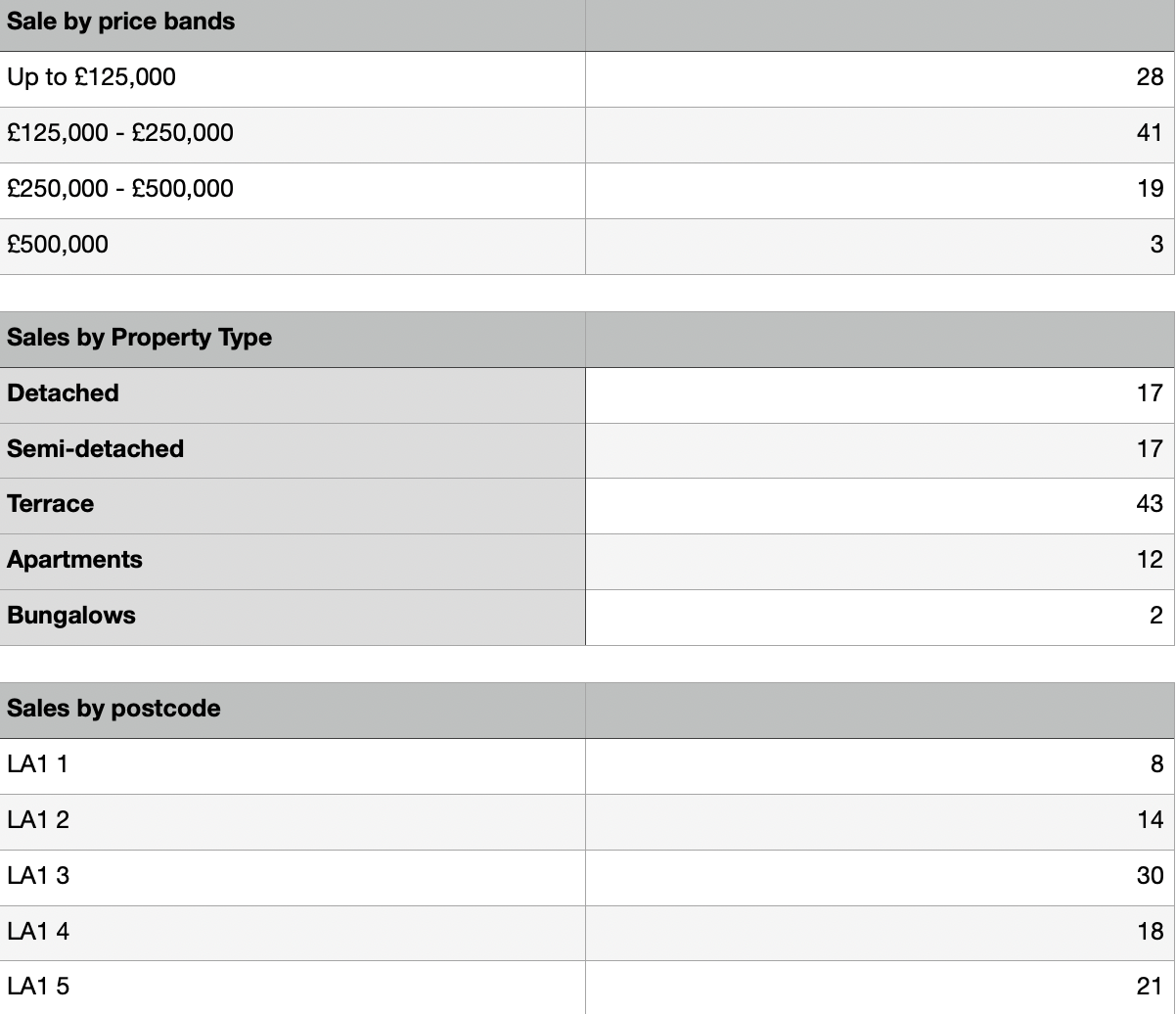 When you look at the statistics for August, it is interesting to see that just 75% of all sales were under £250,000. Back in January, this was much higher at 93%. Sales above £250,000 have certainly increased, mainly due to the stamp duty holiday.
There were just 3 sales above £500,000 in August however I will mention a particular house sale on Haverbreaks that we were involved with. Tanglewood had 12 viewing requests in just 48 hours. Year to date in LA1 there have been just 6 sales in LA1 above £500,000. As you can see the demand is growing.

In total 18 Agents were involved with the 91 property sales in LA1.
At JDG we registered 222 new house-hunters in August. Since lockdown eased in May we have registered over 800 buyers hence why over 27% of all the property sales in LA1 have been with our company.
We have had some great successes in August. 70% of our sales were actually new to the market. Pickard Street, Whalley Road, Grasmere Road, Ullswater Road and Tanglewood are just a few of the properties that sold within days.
We are now looking to help more home buyers. If you wanting to get moved before Christmas, now is the time to be putting your home up for sale. The next few weeks are crucial for this!
If you are thinking of moving, please get in touch. We can create a bespoke moving planning for you. All our appointments are carried out in the safest possible way and in line with Government guidance to ensure we are all COVID secure.
Call us on 01524 843322 or email me at michelle@jdg.co.uk
The pie chart below shows the property sales results in Lancaster since lockdown eased in May. As you can see, homes are selling with JDG.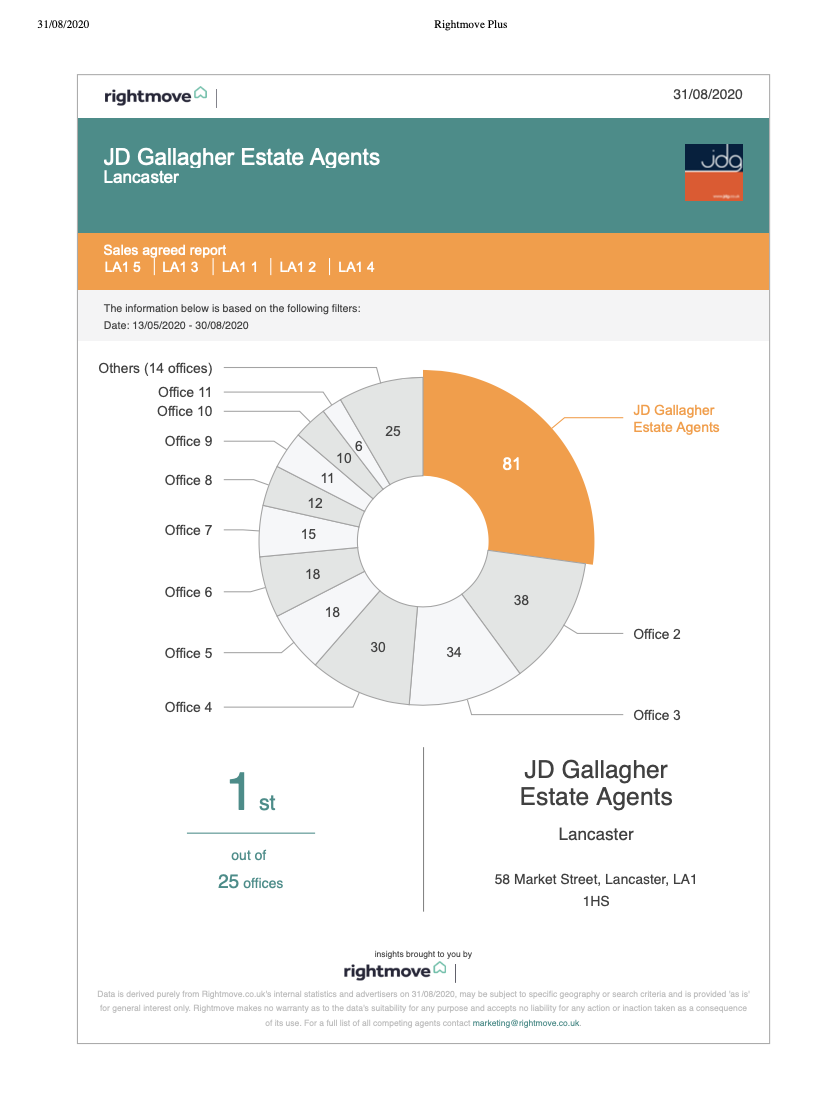 Ps. Whilst the housing market does feel very busy, the busiest month this year for sales was January 2020 when 102 properties went under offer!