A while ago ago I was asked to sell a property for an investor client. The property was an ex-rental terrace. The kitchen and bathroom were sparkling new. As was the double glazing and the gas central heating system. All were brand spanking new! Sounds like an easy sell? You'd expect it be. Expect it wasn't. This property was empty. It was uninspiring. The 2nd bedroom was small. The wallpaper wood chip. The rear yard tiny due to the kitchen extension.
Viewing after viewing took place. Feedback was mixed. But one thing that stood out was that this property was just there. It did not inspire. It did not feel like a home. We chose not to reduce the price. The level of viewings told me that the price was ok. Buyers were looking. They just weren't buying. We chose to stage the home instead.
Our budget
My clients budget was small. This is after all a 2 bed terrace. We had long chats and we formed a detailed plan. Many items were borrowed from friends. Others brought from home. We formed a shopping list and used low-cost local stores. Here's just some of what we did.
Furniture – We gave each room an identity. Furniture was both borrowed and bought. You can get excellent deals in 2nd hand stores.
Soft Furnishing – Curtains were purchased. Cushions, bedding and throws brought in. We wanted to add colour and soften the hard look of the wood chip. A cow skin rug was borrowed from me.
Accessories – The kitchen was dressed. We wanted to brighten up the room. Wine bottles were put into the rack. Pans displayed on the new cooker. A picture and clock added interest to the otherwise bare walls.
Smells – We wanted the home to smell appealing. Vanilla is used by many furniture stores as it's known as the smell of luxury. In the bathroom we used Lush bathroom goodies. The smell is so fruity and fresh. The products also add great colour.
The Yard – The walls were white washed and wall baskets with colourful plants added. This showed there was a pleasant space to at least sit out!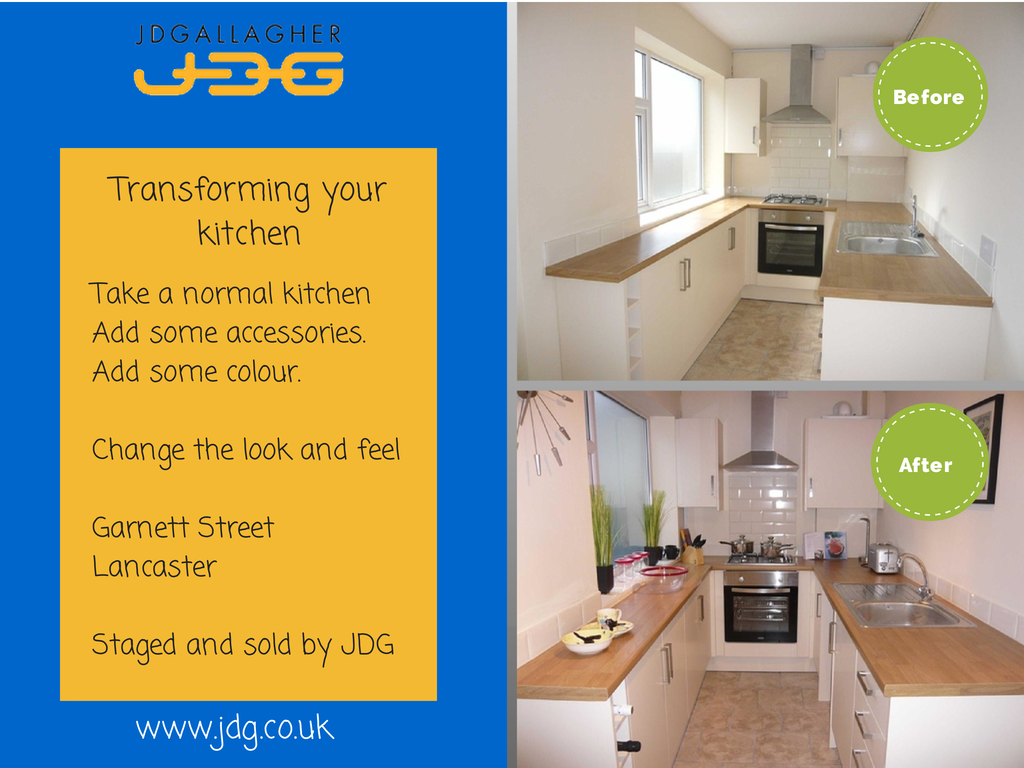 The end result
In true Kirsty and Phil style we re launched the property. What happened next astounded even us. A previous viewer who had totally dismissed the house went to view it again. He actually denied seeing that house previously! Before even going upstairs he declared it was perfect. He bought the house.
Staging your home to help it sell works……

If you would like advice in how to help a struggling property sell, please call us. We love to help people move.
Call us on 01524 843322 or 01524 409100.