Welcome to the October property update for 2019. Each month we report on the facts and figures as reported by Rightmove, Zoopla and Land registry data. This month has been very interesting and whether we like it or not, conservations around Brexit have come back to the forefront, despite the fact that the general opinion out there is that majority of people want it over and done with.
The question many people have been asking is - do we move now or do we wait? The answer has to be - what are you waiting for? If prices go up, they all go up. If prices come down they all come down. You could opt to rent - but is this dead money if your long term intention is to buy? Plus there are some excellent mortgage deals available.
Savvy buyers now are picking up some great property deals. Homes which are selling for a premium, tend to be stand out homes in an immaculate/exceptional condition.
Here is October's breakdown - the data taken from Rightmove Intel

A lack of new properties
The lack of new properties coming to the housing market is a direct result of people putting moving on plans on hold because of Brexit. Over the course of the last 3 months, new properties for sale is actually down by 74 properties, year on year.
Buyers though are still actively looking. There is a marginal increase of people looking at properties for sale and despite the lack of choice available, the overall number of sales agreed was down by just 5 sales when we compare October year on year. Stock levels though are currently down by almost 100 properties.
What actually sold and where?
The most expensive home to sell this month was a 5 bed detached home on Highgrove priced at £450,000. The cheapest was a 2-bed house which needed updating on the Marsh Estate.
What's interesting is that 88% of all the property sales in October have been in the price range below £250,000.
The higher-end market has struggled to sell this year - there have been just 5 property sales above £500,000 and only 45 sales priced above £300,000. This is from January 1st.
The knock-on effect on this is that the average property price paid in LA1 currently stands at £161,000. In June 2016 it was £20,000 higher at £181,000. This does not necessarily mean property prices have dropped, it shows that it is the lower / middle end of the market that is seeing the most activity by a considerable way.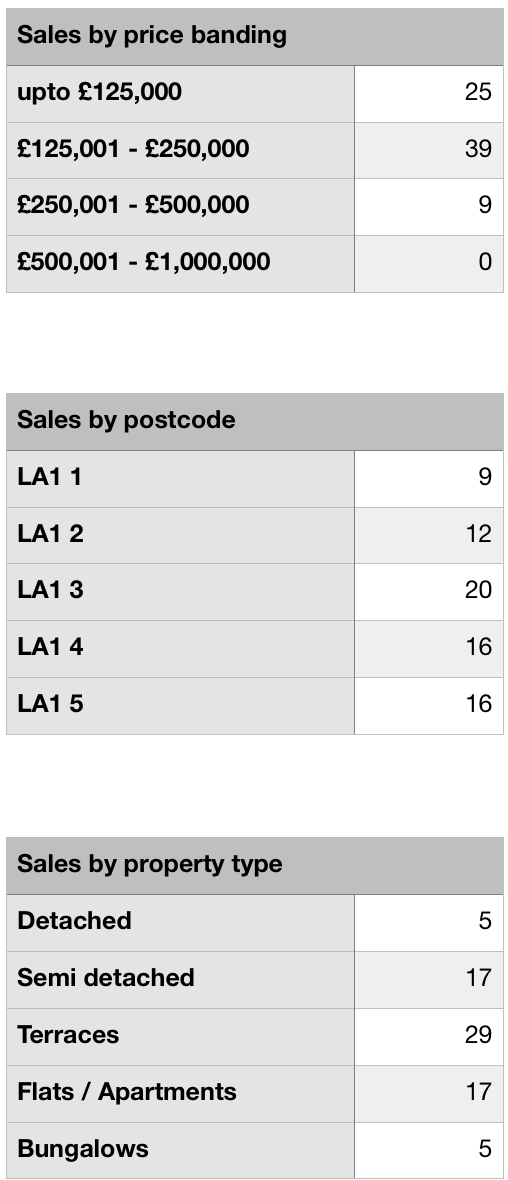 16 different estate agents were involved with the 73 property sales this month. At JDG we sold 22% of these properties which equated to 16 property sales. 12 agents sold under 5 properties all month.
We had some fantastic results. Abbeystead Drive, Masonfield Crescent and Goodwood Road all had multiple viewings booked and sold within days of hitting the market. Property investors are also back out looking, there is a demand for student properties in key areas. For example - St Oswald Street had 18 viewings booked in, Springfield Street had 15 booked in. Both are now sold (STC).
Are you thinking of moving? Can we help? All of our home consultations are free. We will provide you with a detailed moving plan and share with you our top recommendations to help you achieve the best possible price for your home.
Call us on 01524 843322 or email me - michelle@jdg.co.uk. I'd love to help get you moved.