Welcome to the November's Housing Market for the Lancaster Housing Market. November is one of my favourite months in the Lancaster Housing Market. I love how the Autumn is truly here and that the seasons have changed. I love the fact that it is also the only month in the 2nd half of the year that is not affected by school holidays.
Many estate agents talk about the housing market getting quieter. It's true that there is drop off in new properties coming to the market and newly registered buyers start to peter out, however, those that are looking are keen, and I've never found Lancaster to be a seasonal housing market.
Every month, the UK housing market throws something new at us. This month it was the announcement of a general election. The ISA Help to Buy scheme also came to end. Brexit is still hanging over us and of course, Christmas is fast approaching.
I firmly believe that a positive mindset and a bit of determination helps sells houses, that of course, combined with the right marketing and accurate pricing.
The other thing to note is that the people who are out house hunting in November and December, tend to be very keen buyers!

What happened in November?
In November 2019, 80 properties went under offer. This is 5% down on November 2018 but it is 10% up on the previous month when just 73 homes sold.
November's breakdown is as follows.

Less Choice Available
A key thing to note is that there is 10% less choice out there available than there was last year (and also last month). Whilst the number of new instructions is on par with the number of sales, some Lancaster residents have withdrawn their homes for sale, hence the drop in properties available.
Price reductions are down but property views are considerably up, a reflection of the lack of choice available.
What sold and where?
This month the most expensive home to sell was a 5 bed detached home on Quernmore Road. It had been on the market for over 18 months. This was the only sale above £500,000.
The cheapest property was a 1-bed retirement apartment in Greaves. It was just £65,000.
86% of all the property sales in November were under £250,000. The number of sales above £500,000 this year now stands at just 6. This is a concern.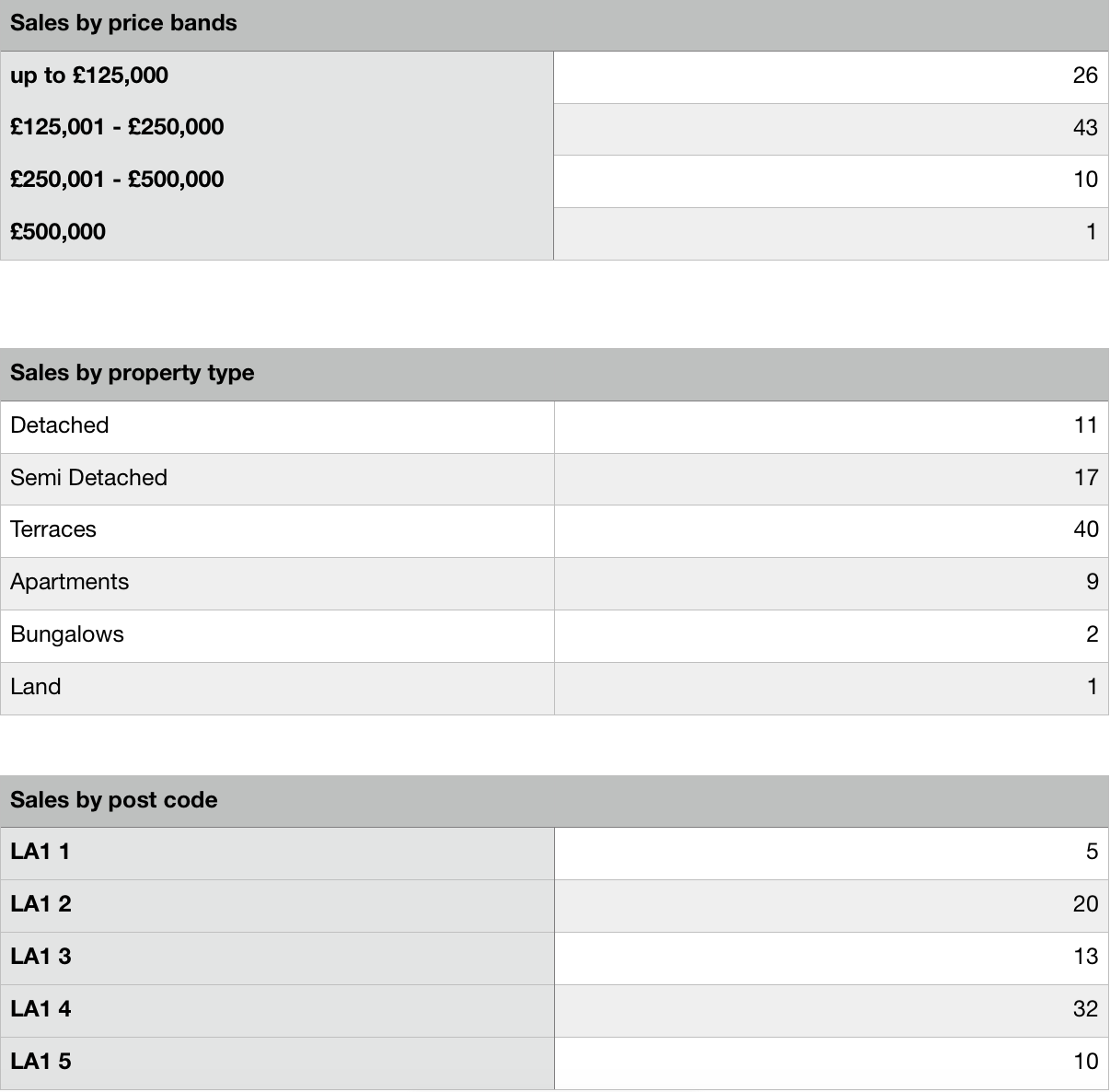 In total, 15 different estate agents agreed the 80 property sales in LA1 in November. At JDG, we had a fantastic month with 22 sales, which equate to 27.5% of all the sales agreed in the month. Only 2 agents agreed more than 10 sales.
We saw some homes sell very quickly. We had lots of interest in a semi-detached home on Torrisholme Road. It sold in just 48 hours. A student house on Bulk Road was snapped up in just 7 days and some land close to the city sold to the 2nd viewer. It shows that the buyers are out there.

No one can predict what will happen in the forthcoming months. Maybe the general election might help determine that. What you can count on though is that you need to work with an experienced agent that has worked in tough markets before.
If you are thinking of selling, please get in touch. At JDG we are to help get you moved. Call us on 01524 843322 or email me at michelle@jdg.co.uk

*All figures have been taken from Rightmove Intel.

Thinking of moving? Why not try out our handy online valuation tool? It is not as accurate as having us around but in under 60 seconds, you could have a good indication as to what your home may be worth. Why not give it a go!

https://valuation.jdg.co.uk/home/800-jd-gallagher