Welcome to the first edition of the Lancaster Housing Market report for 2020. January has been a very interesting month, one which is full of hope and optimism for the year ahead. Following on from the general election, there is a renewed confidence in the UK housing market, one which has been seen across the country and dubbed by industry experts as the Boris Bounce.
Rightmove have already reported a 15% increase in buyer enquiries since the election. Closer to home at JDG, we have seen this increase by 16.8%. Online activity is certainly up and we have had best January since the housing market peaked in 2008, however, we mustn't get over-excited as, across the city, sales are still down compared to 2019.
Many new potential buyers that come to the market, often want to see several homes before committing. Many of the buyers hunting, have also just recently put their own home up for sale. It does, however, point towards an active Spring market!
Here are your figures for LA1 1

An increase in daily views
A key metric to watch is always the level of daily views on Rightmove. This is a good indication of buyer activity in general. Activity in general is showing 30% up year on year.
An increase in new instructions
There is an increase choice of properties now coming available. Many people in 2019 put their moving plans on hold due to Brexit uncertainity. This now starting to ease, hence the increase of new properties coming available.
What is happening with property prices in Lancaster?
Over a 5 year period, there has been on average an 8% growth in property prices across LA1. The average property price, based on the last 12 months sales is now £155,380. This month the most expensive home to sell in Lancaster was a town house on St Georges Quay. This was on the market at £289,950 and had been for sale for just under 12 months. The cheapest property to sell was a retirement apartment in the city which ws on the market at £62,500.
82% of all the property sales were under £200,000.
What sold where?
Here is your breakdown as to what is selling and where.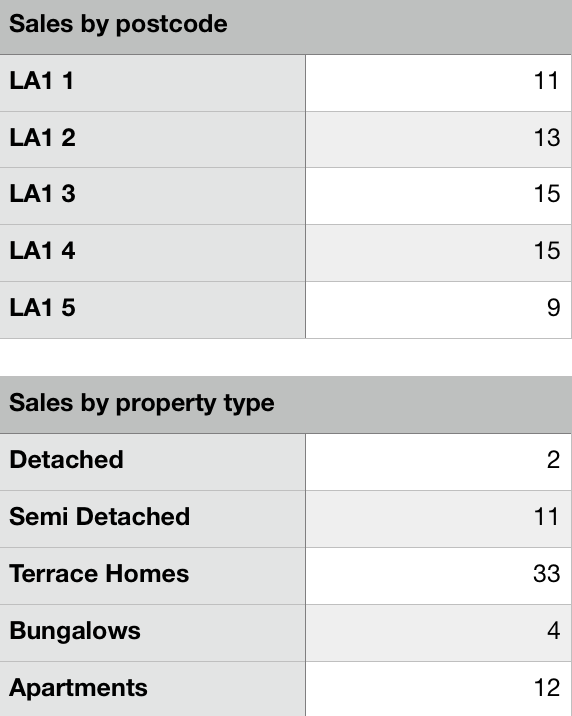 In total 14 different estate agents were involved with the 63 property sales, and whilst we do not have the most houses for sale, we agreed 18 of these property sales which equates to 29% of the market.
There is no doubt about it, buyer activity is now picking up. Buyers, however, have a vast choice to pick from and the way they are house hunting is changing as technology advances. Forget how you may property hunt. People are different and as such you need to ensure that your home is fully marketed in as many places as possible. I call it a marketing mix. Make sure your estate agent still uses traditional methods such as the local press. Equally a targeted social media campaign is a must. Hi-quality photos on the property portals are essential.
If you would like to have a free, no-obligation chat about how we can help you achieve the best possible price for your home, please get in touch. Call us on 01524 843322.
*JDG Estate Agents have been rated in the Top 3% of estate agents in the UK by the Property Academy and Rightmove