When you put your home up for sale, it's really important that your internal presentation is great. Photos of your property will be looked at by potential buyers. From a photo, these potential buyers will make a decision if they want to view or your home or not. If you've followed our previous cleaning advice, your home should be sparkling. Now we just need to add the finishes touches which will transform your home into a house ready for sale. You might already have some of these items. Others you might need to acquire, hence I have made it a shopping list.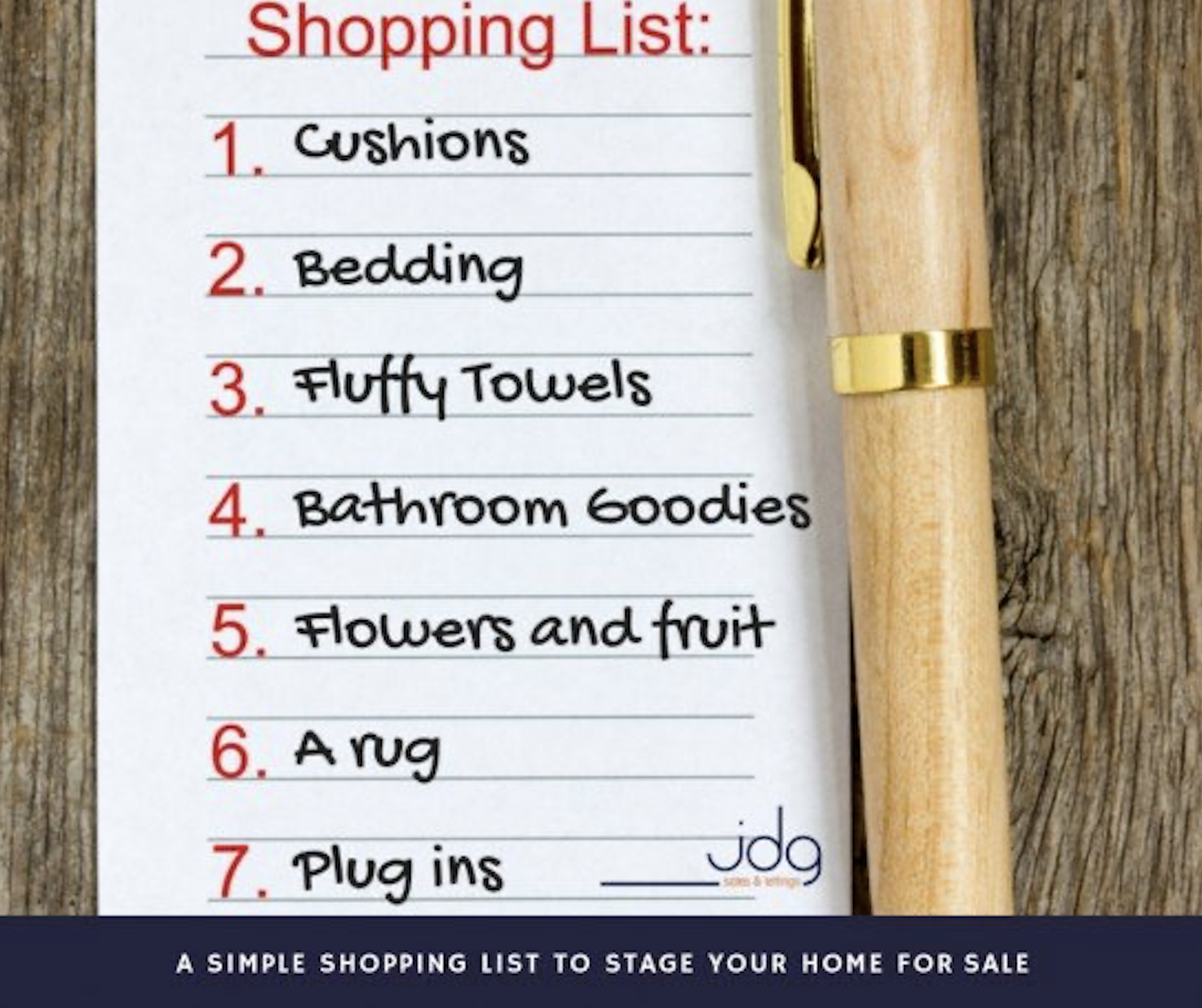 I really believe you need to buy them over borrowing them as it's really important on viewing days that your home looks like the photos. If it doesn't, it causes confusion in buyers minds and you might finish up with lots of viewings but no offers. This is really deflating and can easily be avoided by following these simple tips.
Here is your simple shopping list……..
1. Cushions
Cushions are my home staging best friend. They can add colour to your room. They can give new life to a tired sofa. They can also add a feeling of luxury and easily make a room feel on trend. You can also use them to dress your bed too!
2. Crisp Bedding
Give your bedroom a luxurious look with smart new bedding. Think hotel luxury. White bedding always works well and can be dressed easily with inexpensive cushions and throws. Focus on the master bedroom as this is the room where your buyers will ultimately be sleeping themselves. Make sure it always looks ironed. Crumpled bedding is a huge turn off!
3. New fluffy Towels
New fresh towels can transform a bathroom. Choose a colour which complements your tiles or adds colour if your tiling is completely white. Make sure they stacked nicely or folded correctly. I suggest keep them out of use and bring them out purely for viewings!
4. Bathroom Goodies
Do you have matching toiletries? Think of the type you often get at Christmas and always save for best! If not, acquire some. Posh bubble bath bottles, hand washes and soaps can really lift a dated bathroom. Put them out on display and hideaway your everyday shampoo bottles, toothpaste and tooth-brush!
5. Flowers and Fruit
You'll often see flowers and fruit in JDG photos. I love using them as I feel it adds a feeling of freshness to our photos. I pinched the idea from a hotel I love in London. They always have both displayed in the reception area and it makes me smile. Why not display flowers in vases on your dining room table. On in your window in the lounge? I also love fruit in tall glass vases. A display of apples looks great!
6. A Rug
Do you have hard flooring? Why not soften the look with a rug? Rugs add warmth and style to a room. They can bring a scheme together. Rugs can be fashionable adding colour. They can be soft underfoot. A rug can really transform the feel of your room.
7. Plug-Ins and Scented misters
How a house smells make a big first impact. Buyers often comment when a house smells great. It can really make a huge difference. Smells need to be subtle so if using a plug-in switch it on low. You could dab Vanilla essence oil on lamp bulbs (when switched on, it gives a great smell) or about putting a sliced lemon in your kitchen bin. I would normally say candles are great if you are going to be home when the viewing takes place - however at the moment Covid guidelines don't permit this and we don't want your home burning down!
You can pick up all of these items affordably in many of our local stores in Lancaster. During lockdown, many are also offering click and collect and some home delivery too!
My name is Michelle and I am a director at JDG Estate Agents. We are here to help you sell your home quickly and for the best possible advice. These tips are tried and tested. They work. A recent client followed our tips. Her apartment on Swan Yard sold in just days. If you'd like more tailored advice call and ask for a free valuation. We are here to help!
If you would like to arrange a valuation or indeed get an idea of what your home is worth, just click here. Our free instant online valuation tool will give a quick idea in under 60 seconds!
Try it here
https://valuation.jdg.co.uk/home/800-jd-gallagher