Welcome to the first property report of January 2021 where we report on what is r eally happening in the Lancaster property market. Each month we compare what is happening this year, to the same period last year. What we need to note though is we are now in a completely different market, with a completely different set of circumstances and even a different way of working.
We've discussed in previous reports how January 2020 saw a rush of properties come to the market in Lancaster following the Brexit agreement of December 2019. January 2021 saw a lack of new properties coming to the market due to lockdown 3.0.
As we take a look at the figures closely, it comes apparent people still want to get moved. We can see that by the 13% growth in the number of people looking at Rightmove on the daily views.
Sales agreed are up by a whopping 23% as people look to move for more space - the need for a home office, the desire for a garden and the wish to be closer to family are the key reasons why many people are looking to move.
Let's take a look at the figures…..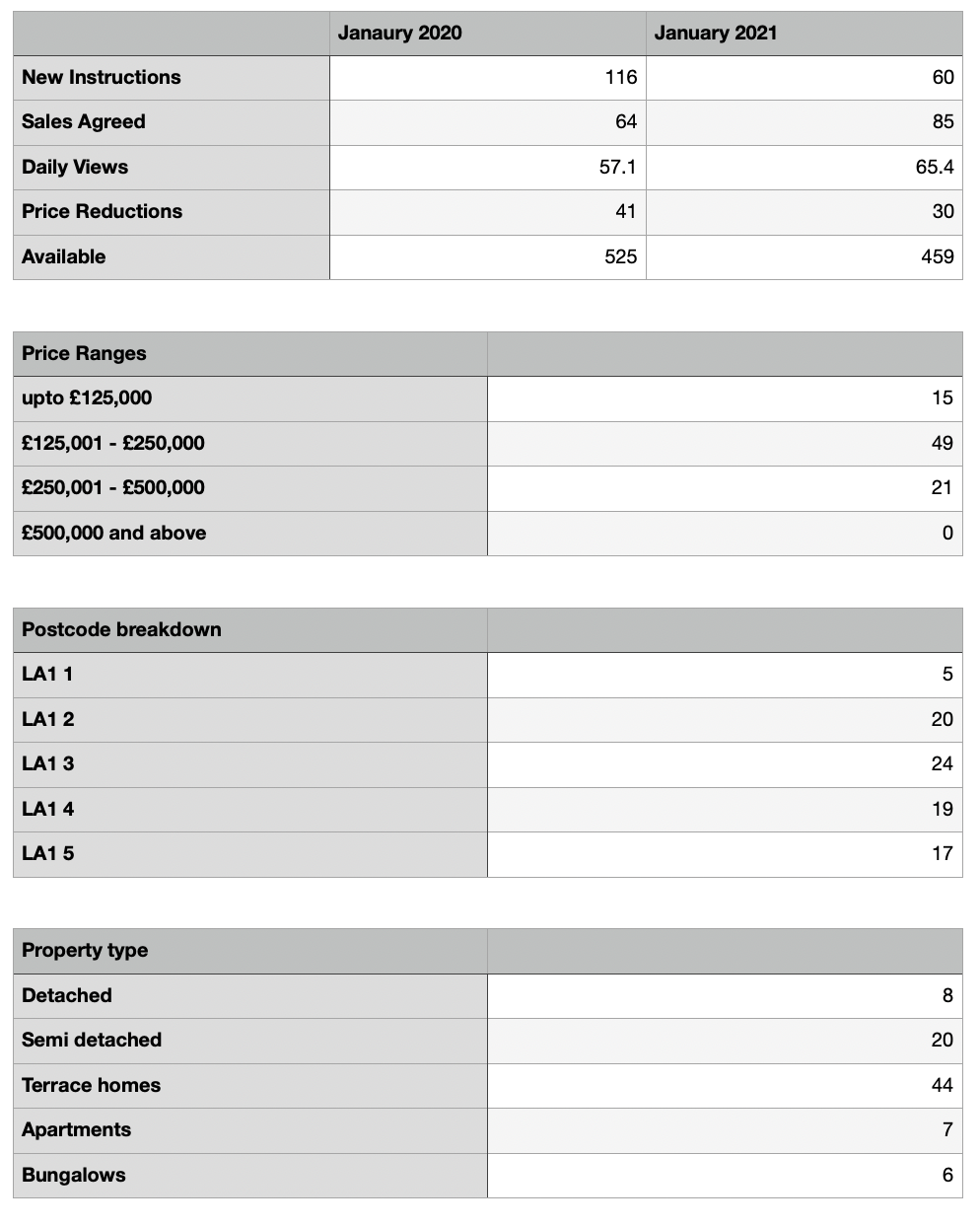 What sold where?
As we can see from the above, 75% of all the sales agreed were under £250,000. There were no sales above £500,000. The 3 highest properties to go under offer were a detached home on Haverbreaks and two-period homes in the city centre. All 3 properties were priced at £400,000.
Terrace properties accounted for 50% of the sales in LA1 and the area with the highest demand for property was LA1 3 - people do like to live close to the park!
The concerns moving forward
The big concern now for many is the lack of property choice available. Buyers are looking, however, many sellers are holding off due to the 3rd lockdown and trying to juggle homeschooling and working from home.
As we enter into February there are just 338 homes available for sale in LA1. In 2019 there were 432. Of the 338 available homes, 135 are apartments, this is over 1/3 of all the available properties for sale in Lancaster. This is reflective of the reasons people are moving with the desire for more space and gardens.
27.1% of all the property sales in Lancaster (LA1) were with our company in January despite the fact we don't have the most to sell!
South Road, Regent Street, Coverdale Road, Sibsey Street, Stanley Place and Pinfold Lane were all period properties which sold in a matter of days. Several homes including Regent Street, Palatine Avenue, Olive Road and Sibsey Street had multiple people seriously interested.
We now need more homes to sell. We registered another 182 house hunters all looking for properties locally on our database in January. We simply don't have enough properties - it is hard to believe there are just 25 detached homes on the entire market for sale currently!
If you are thinking of moving, think JDG. Our premium marketing works. Look at the average daily views on the graph above. They are at 65.4 per property. At JDG our Lancaster properties are averaging 104.5 views each day!
If you are thinking of moving, or just want to have a chat about the Lancaster housing market, call us on 01524 843322 or email me at michelle@jdg.co.uk
Thanks for reading
Michelle x
Ps. The graph from Rightmove below shows the results for Lancaster in January