As 2019 has come to an end, it's time to look back at the year as well as the month of December for the Lancaster Housing Market. 2019 was a year of some uncertainty with many people opting to put there moving plans on hold due to the ongoing saga of Brexit. It was a rather unexpected year in government with two Brexit deadlines missed, Theresa May resigning and the announcement of the general election - which took place in December.
The knock-on effect was that throughout the year, 755 properties sold (SSTC) in LA1, this was a drop of 10% in 2018 when 838 homes sold. There were, of course, fewer properties for buyers in LA1 to choose from. Over the year, new properties coming available for sale dropped by 13%.
We are now of course in 2020 and set on a new course. Predicting the future is always a risky business, however, we now have Brexit certainty and the economists are talking of a "Boris Bounce" for the housing market, with the North West predicted as a property growth spot.
Industry experts, banking experts and economists predictions range from a house price growth of between 2-3%. Good news for property owners, perhaps not the news first-time buyers were wanting to hear.
Lancaster is a superb area to live in. How many cities can boast two universities, a training hospital, the M6 running alongside us and the main train line running through us? We have one of the regions best free education systems. Lancaster has also just been recognised as the 2nd most popular tourist destination in Lancashire.

Here are your figures for December

What sold and where?
The graphs below show the most popular house types, price ranges and postcode areas.
What is interesting to note is that 92% of all the property sales were under £250,000. 44% of the sales were under £125,000. First-time buyers are starting to return the property market. The financial times reported back in August that first-time buyer mortgage approvals were at their highest since 2007.
The higher-end market is still struggling however property experts predict this could change as the political uncertainty starts to calm.
Semi-detached homes on the North side of Lancaster accounted for 17% of this months sales. There is a high demand for 3-bed family homes in Scale Hall, Skerton, Vale and Beaumont.
Can you help?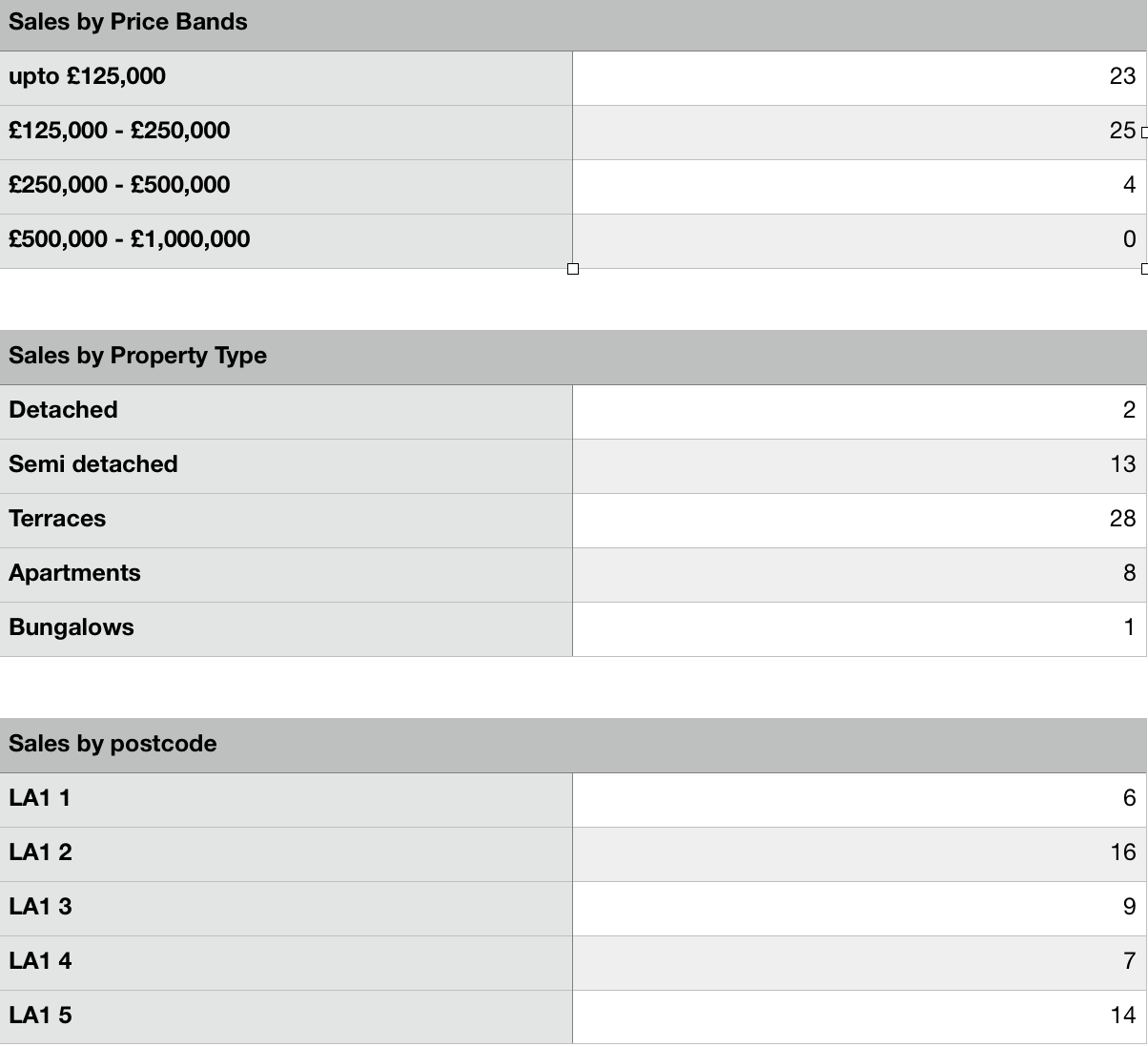 Just 12 estate agents were involved with the property sales in LA1 this month.
Throughout 2019 - JDG has been responsible for 21.5% of all the property sales in Lancaster which means 1 in 5 Lancaster homeowners have trusted us with their biggest asset. We thank you for this.
We've had lots of highlights throughout the year and feel truly honoured to have been a part of our clients moving journeys. We have shared the stresses, the joys, the tears and the excitement.
Nobody knows for certain what 2020 will bring. It's expected to be a great year. The first few days have certainly kept us busy. In just the first 3 days of the year, 45 viewings have booked and 30 new applicants, ready to start their house hunt have registered their details. It is certainly an encouraging start!
If you are thinking of selling in 2020, please get in touch. At JDG we are to help get you moved. Call us on 01524 843322 or email me at michelle@jdg.co.uk
*All figures have been taken from Rightmove Intel.

Ps. If you are not quite ready to move yet why not check out on online library of E-Guides. They are all written to help you achieve the best price for your home and are free to download!
What to read the next. The E Guide Library to help you get the price for your home.