May 18th 2021 marked the 1st anniversary of the Lancaster Housing Market being back open for business. It's hard to believe we are still under some lockdown restrictions and that our hospitality sector is only just re-opening. Whilst holidays to green list countries are now allowed, many people have opted to have a summer staycation. Many others have chosen to use the money they have saved to either move home or improve their home. Because of this the Lancaster housing market is still exceptionally active and is showing little signs of slowing.
Many estate agents are now reporting a shortage of properties to sell. However, when you look back over time, the number of properties listed for sale is almost identical to that of 2019.
The big difference now is the demand for property from buyers. Online searches have more than doubled and sales are up 28% compared to 2019. The biggest problem is the lack of choice available plus when great properties come available, they tend to sell quickly.

Here are your figures for May 2021

Property Sales
Property sales are up 28% compared to 2019. Month on month, terrace homes account for almost 50% of all the sales in Lancaster. This is not unusual, we are, after all, a city with lots of period homes.
The big issue we have is the lack of semi-detached and detached homes. There are currently just 19 detached homes for sale and just 28 semi-detached homes. It might sound a lot but when I tell you there is just 1 semi-detached house in LA1 4 priced under £200,000 - you start to see there is a real property shortage.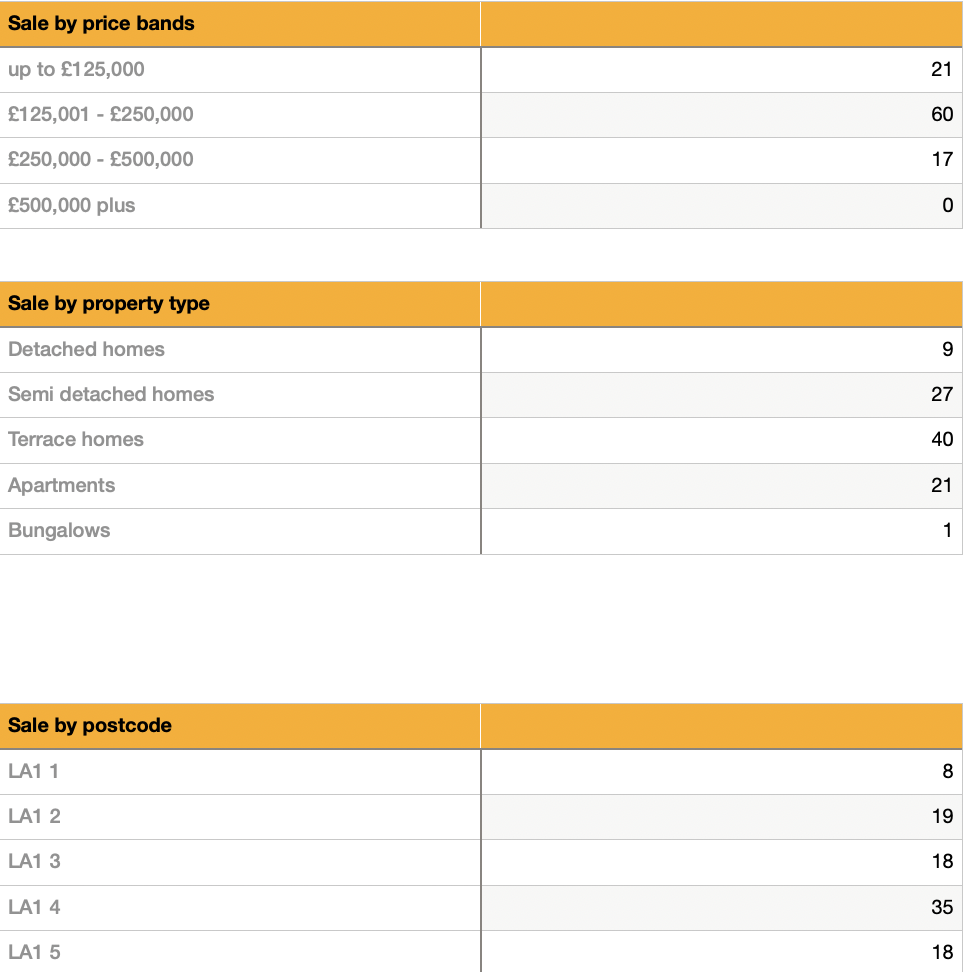 Who's buying properties?
Properties are getting snapped up. Student landlords are desperately trying to buy the 4 /5-bed terrace homes in the city as article 4 comes into force in November which restricts the number of student properties allowed in the area.
First-time buyers are also back. The government-backed 95% mortgages are helping people get on the housing ladder and there are many families looking to upsize with the need for a garden and also home office becoming a high priority for many. It is interesting to see how many buyers now ask about broadband speeds!

Sales above £250,000
Sales above £250,000 have started to slow. This month there were just 17 sales in this price range and of those 17, only 3 were above £400,000. It is worth noting that the first tier of the stamp duty holiday ends on June 30th.
Properties Prices in general
Property prices are still increasing. The average semi-detached home in LA1 (north and south Lancaster combined ) is now worth £175,546 whilst the average detached home is now worth £315,581.
What is interesting is buyer demand. Just recently we have had to hold socially distanced open days for two semi-detached homes ( one in Bowerham, one in Greaves ). We did it this way due to the high buyer demand. It was decided this was the safest way for the property owners to minimise any risk, and also the fairest way for the buyers so they could have an opportunity to view. We only allowed proceedable buyers to view. Both open days resulted in multiple offers and both homes achieved offers over the asking prices. We certainly need more semi-detached homes for those buyers who missed out. Can you help?

21 estate agents were involved with the 98 property sales in May At JDG we found many of our properties were snapped quickly. Cork Road, Sulby Drive, Sharpes Avenue, Thirlmere Road and Greenest Close were just some of the homes to sell in days. Many homes had multiple competing offers resulting in offers at the asking price and above. We really do need more homes to sell!

In May we registered another 350 people looking to buy locally. This takes us to over 1350 active buyers looking to be in our area. We know who these buyers are and what they are looking for. As we enter June, there are just 273 homes for sale in LA1. 112 of these are apartments. Can you see the property shortage?
If you are thinking of moving please think JDG. We would love to help and the great news is, we are achieving excellent prices for our clients. Please call us on 01524 843322

Thanks for reading

Michelle
Ps. Have you seen our new interactive brochures? At JDG we really do more for our clients. We are on a mission to ensure sellers and buyers are better informed! Please take a look.
PPS. Here is a graph from Rightmove that shows a breakdown of all the property sales in LA1 over the last 12 months. What is really interesting is that we have listed 279 homes for sale and sold the exact same amount. At JDG we get you sold!