Stamp duty cuts, pent up demand and sadly an increase in separations and divorce, have kept the Lancaster housing market exceptionally busy with a record number of sales when compared to previous years. It was only last week that it was announced that new mortgage approvals are at a 13 year high - the highest they have reached since September 2007 with 91,500 new mortgages agreed. This is 25% higher than it was in February this year (which was the month befor the pandemic started).
Many are wondering what is the outlook? Demand is still there, despite the new lockdown looming on Thursday, house hunters are still calling, email requests to view properties are still coming through and the diaries are filling. The housing market though isn't without its difficulties.
At the lower end of the market, first-time buyers are now struggling to obtain mortgages. It has been reported that 1 in 8 people are struggling to pay their rent and as bars, restaurants and retail outlets have to once again close from Thursday, this is bound to have some further impact.
The housing market has been somewhat protected as the majority of these roles fall into the younger adult age range and research shows that these people tend to be renters, not home occupiers.
To put things into perspective 114 properties sold across Lancaster (LA1) in October. October 2019 it was just 77. Our own sales levels increased from 16 sales agreed to 34 sales agreed. They more than doubled.
Here are your figures for October 2019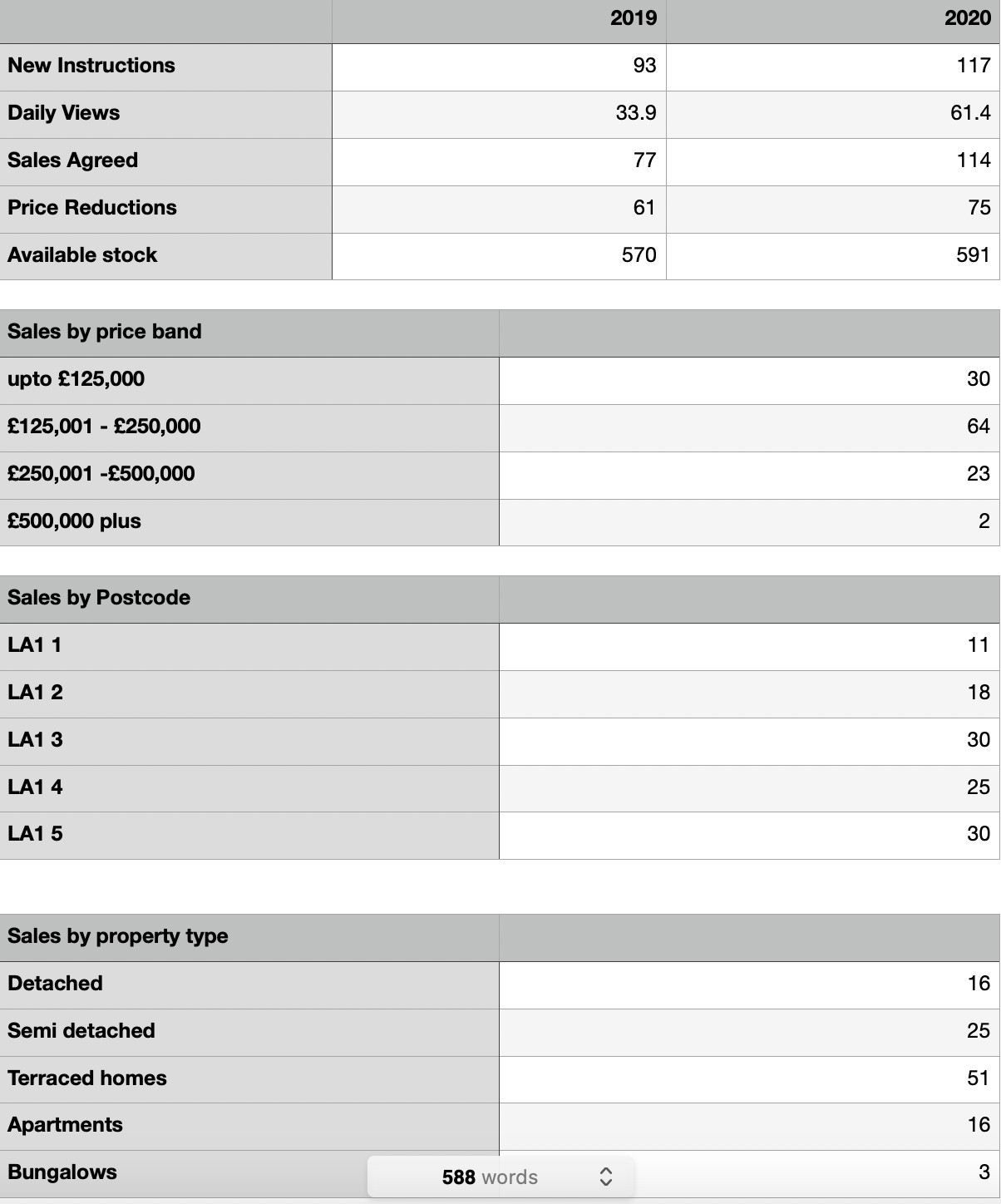 We are now entering into another full lockdown, however, we are informed that the UK housing market will remain open for viewing appointments, house moves and contractor visits. Nobody knows truly what the month will bring. Early signs are that it will continue as home mover still look to beat the stamp duty deadline. Time though is running out for that and we must remember that Christmas will soon be approaching. This morning alone we have received over 20 viewing requests.
In total 21 estate agents were involved with 114 property sales across Lancaster. Just under 1/3 of all these sales were with our company, which is really interesting when you consider we don't have the most houses to sell.
Derwent Road, Spruce Avenue, Lincoln Road, Balmoral Road and Clare Road were just some of the properties that were snapped up in days. Our new ways of working due to Covid-19 have set us in good stead as we have been able to quickly adapt. Video technology and understanding the importance of communication have helped us and our clients considerably. The months ahead will be tough for many, but if we all support each other, we know we can all get through this.
If you would like any moving advice, please get in touch. At JDG we are here to help. You don't have to be a client of ours. We love to talk property so call us on 01524 843322 or email me at michelle@jdg.co.uk
Ps. Please see below the sales graph for Lancaster