Is the Lancaster housing market starting to cool? It is a question many people are asking, now that the stamp duty holiday deadline has come to end. For conveyancers, mortgage lenders, removal companies and estate agents, September 2021 has been one of the busiest months on record as buyers scrambled to complete their sale and save up to £2500 in stamp duty. In the last week of the month, our own agency completed on a whopping 24 sales!
There are early signs that the market is starting to cool. Buyers aren't as frantic as they were, some wanting to view a few properties before making a final decision, some requesting 2nd viewings before they make a firm offer. However, homes are still selling quickly. Several months ago, most homes were selling in a matter of days, some before they even hit Rightmove. Now, if correctly priced and marketed, it is averaging 2-3 weeks - which is still pretty quick!
Lancaster's biggest problem now is the lack of available homes and also the lack of choice on the market. In September there were just 353 homes to choose from in Lancaster. 120 of these were apartments. Only 145 of the homes available had 3 bedrooms or more. There is a real shortage of family-sized homes. It is a bit like the UK fuel shortage!
As we head into October, there are now only 240 homes for sale listed on the Lancaster Market for sale. This is one of the main reasons, why things are now slowing. Buyers like a choice. And when many sellers, are also buyers, the market starts to slow as people hold off putting their own homes up for sale.
Here are your figures for September 2021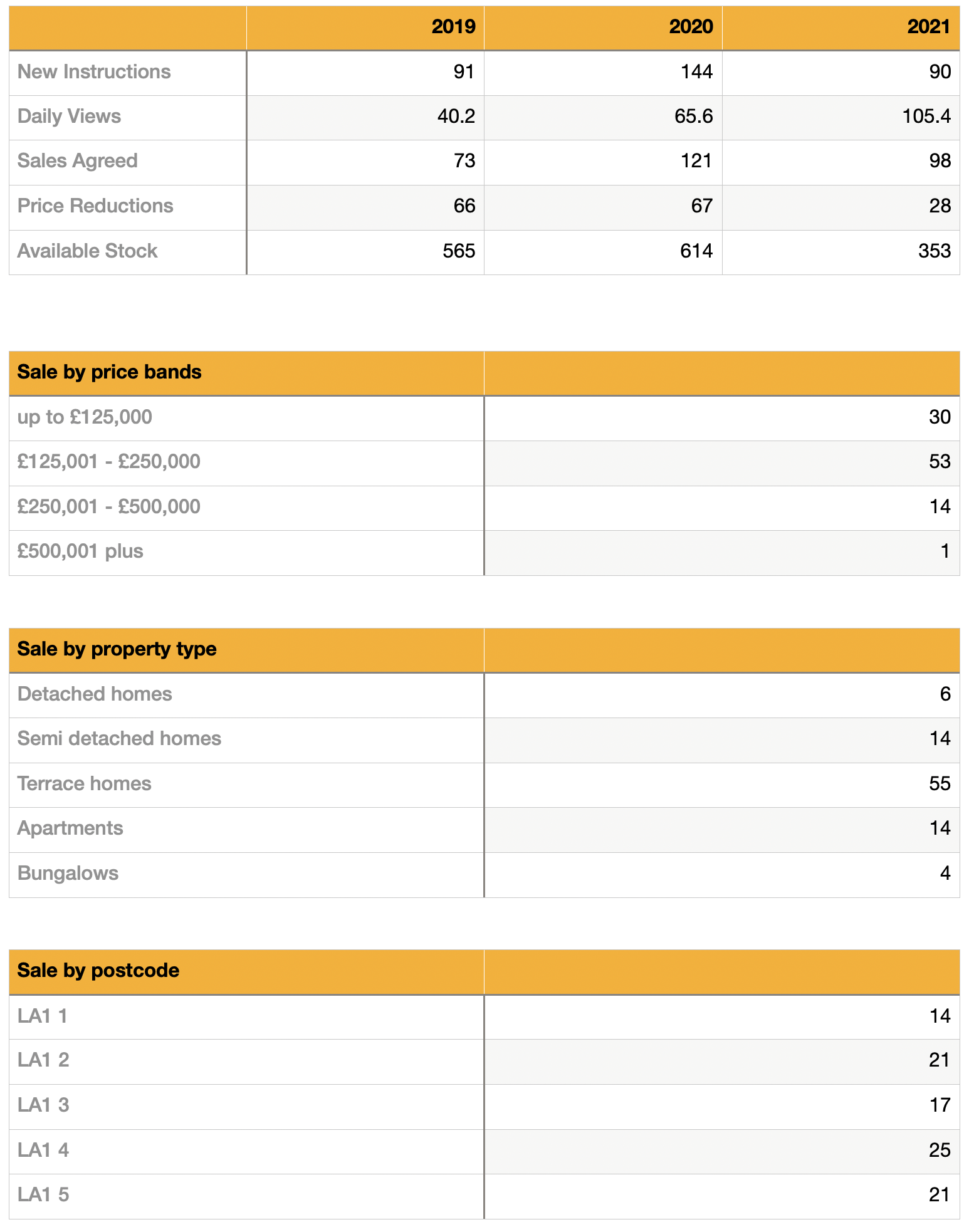 Buyer demand
A key metric to look at is buyer demand. Whilst we have noticed that buyers aren't quite as frantic, you can see the number of buyers looking on property websites has increased 161% from September 2020, and it is more than double than 2019. Buyers are still out there looking.
It is worth noting though that in July buyer demand stood at 125.2 daily views, it dropped slightly in August to 122.3 and in September it averaged out at 105.4.
What is also very interesting is due to the way we market at JDG, our properties were viewed far more frequently than others. Properties marketed with JDG averaged 205.8 views daily.
Property Prices in general
Property prices are showing evidence of leveling off in Lancaster ( LA1 ). In the last month, there has been a tiny decrease of £184 in the average price. This is the first time this has happened this year. The average price is now £163,561 which will be a relief for many buyers out there.

This month 17 agents were involved with the 98 property sales in September
At JDG we agreed on 31 of these sales which equates to 31.6% of all the property sales in Lancaster (LA1).
Many of our homes sold quickly. Many sold for the full asking price, several for over asking price. When you look closely at the figures we achieved on average 98.3% of the asking prices for our selling clients in September. A new home on Windermere Road had 10 viewings booked in 48 hours - 6 of these buyers had seen on the home on our Facebook preview. This sold for over the asking price. Williamson Road and Wellington Road both sold in under 1 week and Redcar Road on the Race Course had 3 interested parties. We are still asking for best and final offers on many of the homes we are selling.
In September we registered 292 buyers on our system. We have over 700 active buyers looking to buy locally. We need to help them found somewhere. Do you have a home to sell?
Are you thinking of moving? Think JDG. We would love to help. Call us on 01524 843322

Thanks for reading

Michelle
Ps. Have you heard our news? We have just discovered that The Property Academy in conjunction with Rightmove has ranked our agency in the top 1% of all estate agents in the UK. This is based on service, marketing and results. Here are just a few of our property facts!
Did you know that in September our homes were viewed on YouTube by over 3900 people who watched for 130.2 hours?
Or that on Rightmove our client's homes were viewed 314,874 times
Or that over on Facebook they were seen 30,900 times with an engagement rate of 16,600. Plus 46.6 hours of property video watching took place.
We also sent out 6381 marketing emails to registered pre-qualified buyers on our database!

If you'd like to know more about how we do this, please ask us. At JDG we like to be transparent and we love to help!