If you read our monthly updates, you'll remember we asked the question - is the Lancaster Housing Market starting cool? There is no doubt about it, the number of property sales in Lancaster has dropped, however, this is due, in the main, to the lack of properties coming available for sale.
When you look at the table below you can see that housing stock has dropped by a whopping 48% over the past 12 months, yet the number of people looking to move has over doubled.
Sellers are nervous about listing their home for sale, in fear that they won't find a suitable home to move to. However, very few people can buy without selling first. The problem is for these people when they see a home they like, there are several other buyers that have also seen it and it sells before they have a chance to even list. It is a growing problem, however, there is an end in sight and it is called the New Year.
When a New Year starts people start to re-evaluate. A New Year brings new beginnings. People start to think once again that they need more space. People get engaged. People take up new jobs. People start thinking more about their families' needs. Others end up having to move due to divorce and others sadly need to sell as a family member has passed away. For many, the New Year is a reset button.
Here are your figures for October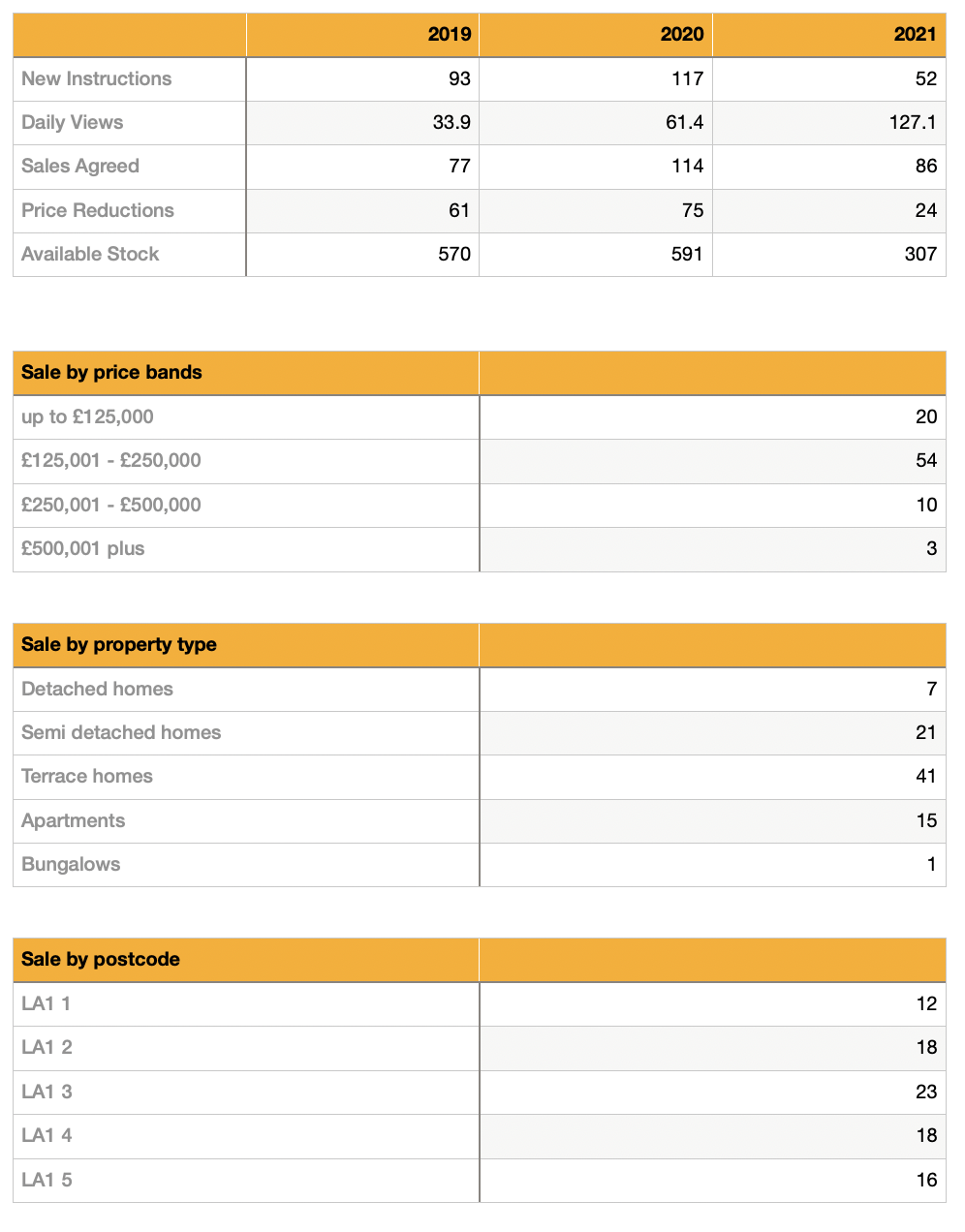 Buyer demand
Buyers are still looking, especially in the mid-price ranges. The number of daily views on Rightmove has jumped back up to levels in line with July. Part of this is due to the lack of choice available, as potential buyers look closely at the choice that is.
Struggling Properties
This month I wanted to focus on struggling properties. Throughout the month of October, there has been a total of 307 homes for sale. As we enter into November there are just 199 homes for sale however 121 of these homes have been for sale for 12 weeks and longer. 155 of them have been for sale for 6 weeks and longer.
This is a serious concern. Estate Agents are implying that all homes are selling quickly, however, this is not always true. The figures don't lie. If your home is one of the struggling 121 homes, we need to talk about how we can help you. I'm also going to suggest if your home has been for sale for 6 weeks or longer, you need to revamp your marketing and possibly reconsider your pricing strategy.
Property Prices in general
Property prices are still showing evidence of leveling off in Lancaster ( LA1 ). Last month they decreased by £184. This month they have increased by £339. The average price is now £163,900.
This month 17 agents were involved with the 86 property sales in October
At JDG we agreed on 18 of these sales which equates to 20.9% of all the property sales in Lancaster (LA1).
Many of our homes sold quickly. Many sold for the full asking price, several for over asking price. When you look closely at the figures we achieved on average 97.7% of the asking prices for our selling clients in September, compared to an area average of 95.2%.
A new home on Harewood Avenue had 5 viewings booked in 24 hours and sold over the asking price. 3 buyers wanted it. Two new homes on Williamson Road were both snapped up in days and Clarence Street in Primrose received 12 offers. 25 people wanted to view this home. We have two great offers on brand new listings that in negotiations and should go under offer in the next couple of days.
In October we registered 235 buyers on our system. We still have over 650 active buyers looking to buy locally. We need to help them find somewhere. Do you have a home to sell?
Are you thinking of moving? Think JDG. We would love to help. Call us on 01524 843322
Thanks for reading
Michelle
Ps. Did you know? The Property Academy and Rightmove have just rated JDG Estate Agents in the Top 1% of agents in the UK based on our marketing service and results. The results are the important part for you. On average we achieve 2% more for our clients than agents in our area.
Below is a graph of our performance so far in 2021.