Whilst houses sell all year round in Lancaster, Spring is considered by many as the time to start thinking about moving home. March is always a month full of activity and is always a month when our valuation diaries get busy!
It's hard to truly predict the market at the moment. Last month new instructions coming to the market were up. This month they are down, however as Easter will soon be here we expect more homes coming to the market soon. After all, Easter is the first bank holiday of the year and it's a time when lots of people get their homes ready to market.
We've not had a "normal" market now for several years. First, there was Brexit, followed closely by Covid. Covid is still here and whilst we are learning to live it with, we now have rising living costs, increased mortgage rates and sadly a war in Ukraine. All of these factors cause a level of uncertainty.
However, for now, buyers remain undeterred. In March alone we have registered 297 new people looking to buy. This year we have registered over 900 buyers.
Buyers are still keen. Take a house we have just listed in Scotforth. Our bespoke marketing campaign attracted 13 viewers to our open afternoon. Offers are already over £20,000 more than the asking price……
Here are your figures for March 2022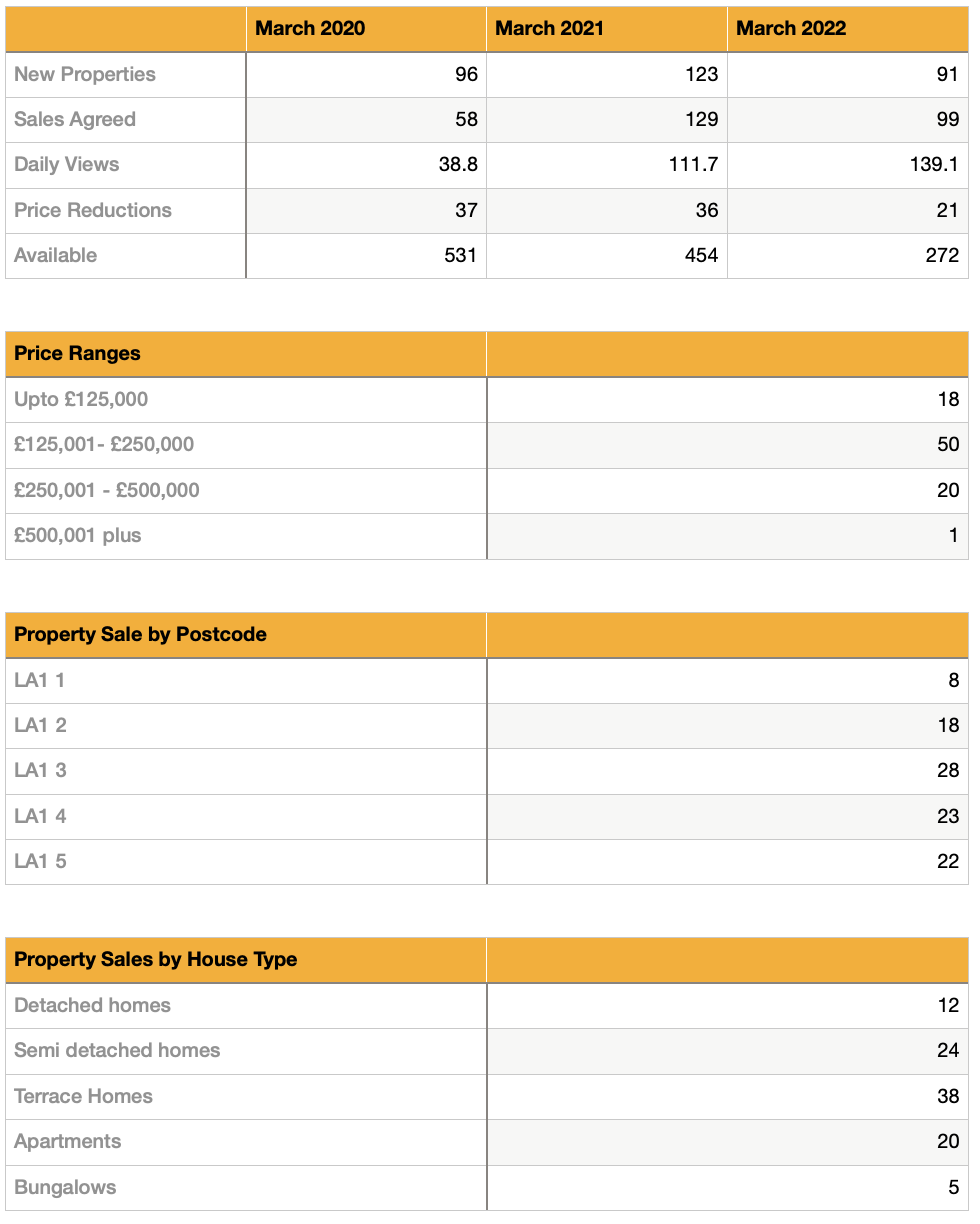 Property Prices
The average price of a home in Lancaster now stands at £168,484. This is a price drop of £400 in the last month and the 2nd month in row prices have dropped slightly. In the last 12 months, though, the average property price has increased by 8.4%.
We are starting to see a slowdown in the growth figures which is an early sign that prices are starting to stabilize.
Buyer demand
Looking at the daily views, it's clear to see that buyer demand remains high. The average property on Rightmove is now seen 139 times per day by buyers looking online. JDG clients however are averaging 212 daily views which shows our proactive marketing is working.
Struggling Properties
As we head into April there are just 159 homes for sale in Lancaster. Houses though are coming to the market daily. What is a concern though is that 67 of those homes have been for sale for 12 weeks or longer - 29 of them are with one agent!
19 different estate agents we involved with the 99 property sales in March. At JDG, we had a superb month. 29.3% of all the property sales in Lancaster were with our company. We are using our new launch strategy and it is really working well. We do things differently at JDG and it is shown in the results that we achieve.
22 of our 29 Lancaster sales agreed on an offer of the asking price or above. Many of our homes had multiple offers, which resulted in best and final offers being made.
We now have a desperate shortage of properties. We really need 2 and 3 bedroom homes for buyers waiting. We also have a big demand for 4 bed detached houses.
If we can help you move, please call us on 01524 843322 or email me at michelle@jdg.co.uk
Thanks for reading
Michelle
Ps. Did you know? We have been recently ranked as the No.1 Estate Agent in the UK by Rightmove and The Property Academy. This is the highest award for any estate agent in the UK. It is ranked out of 22,000 estate agents. It is judged on 3 key elements - marketing, service, and results. The results are the important part for you. On average we achieve 2% more for our clients than other agents in our area.