It's strange the difference just two weeks can make. I'm sure you'll agree, we wake up in the morning and everything looks the same, except it isn't really is it? Life is on hold, whilst we focus on what really matters. Staying at home and saving lives. This month the Lancaster housing market has become a story of two halves. Before COVID-19 took a grip in the UK and after.
Life was relatively normal until March 14th. We were aware of COVID-19. Many of us had stopped shaking hands and office procedures were starting to change. By this point, already 45 new sales in LA1 had been had agreed. By the 21st March, this had increased by a further 10 sales. The market was starting to slow however keen buyers were still active. Since then just 3 properties have sold.
The Lancaster housing market was on track for another record month. It was recovering strongly post Brexit. National Press had reported that in February every single region in the UK had seen strong growth in prices and activity.
Here are your figures for March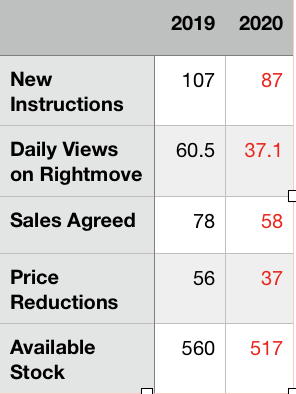 A decrease in daily views
There is no denying it, daily views on Rightmove have dropped as people adjust to a new way of life and homeschooling. This figure is expected to increase later as people settle into new routines.
From the conversations that we are having with people, those that are looking are keen to move. We already have people on lists wanting to view, but only once it is safe to do so.
A decrease in new instructions
New instructions dropped by just 20 properties in Lancaster. Estate Agents across the city rushed to make properties live, however, the lockdown left a number of people disappointed. In our agency alone, I already have 11 new clients who want to sell. It's looking likely there will be a rush of new houses coming to the market when it is safe to do so.
What is happening with property prices in Lancaster?
House prices in Lancaster are currently stable. It's hard to predict what will happen. Industry experts are expecting a huge bounce. People still want to move, they just can't get moved right now. The government has given an unprecedented amount of help in saving people jobs and income. A lot will be determined next by the mortgage market and how it reacts when restrictions are lifted.
The highest price property to sell in March was an apartment at Castle Park. This was on the market for just 2 weeks. It was listed at £350,000 and sold with our own company.
79% of all sales were below £200,000 (In February 2020 this was 83%)
What sold where?
Here is your breakdown as to what is selling and where.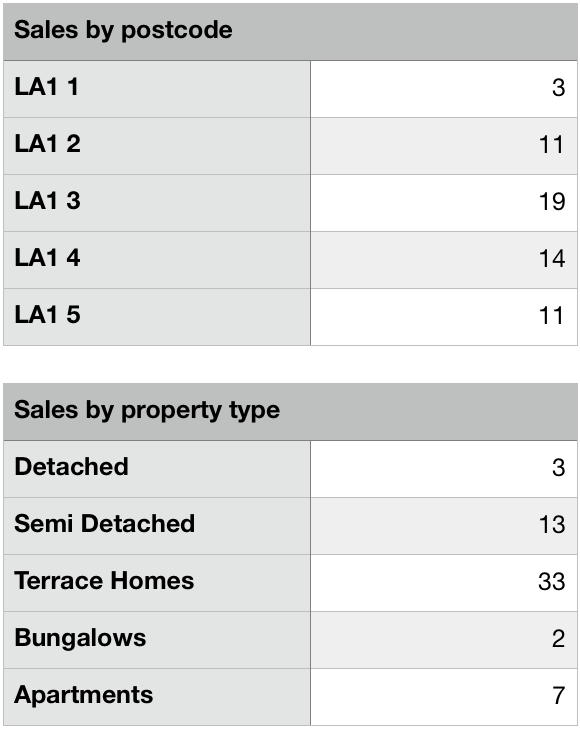 In total 12 different estate agents were involved with the 58 property sales, and whilst we still do not have the most houses for sale, we agreed 14 of these property sales which equates to 24% of the market.
The market though now has changed. There is still a market there and one which is waiting to spring back into action when it is allowed to do so. In many ways, estate agents are still open for business. We just have to do things differently.
At JDG marketing activities have actually increased. We are still talking to buyers and we are still talking to people that want to sell. We are advising people on how to get market-ready.
People we are talking to now are realising what they truly need from their home. For many, the need for space has become apparent. Others are craving for a garden. A lady we spoke to yesterday is struggling to cope with the neighbours piano practice, hence she wants to move! I've also been chatting with first-time buyers who are feel trapped back in their bedrooms. On Monday I was chatting with an investor who wants to increase his rental portfolio. Buyers are out there and we are now forming lists of people who want to view, as soon as it is safe to do so.
If you would like to talk about what is happening in the housing market, please get in touch. We are currently working from home. I'm working from the dining room table. John is working from the study. You don't have to be a JDG client to call us. We are here to help anyone who just wants a bit of friendly property advice.
Call us on 01524 843322 or email me at michelle@jdg.co.uk or john@jdg.co.uk
*JDG Estate Agents have been rated in the Top 3% of estate agents in the UK by the Property Academy and Rightmove