Welcome to the Lancaster Property Market Update for June 2021 What a month. If people thought the Lancaster housing market was going to slow in June, their prediction was wrong. The first of the stamp duty holidays may have come to an end, but that didn't stop people house hunting.
June has been one of the busiest months known to estate agents, conveyancers, mortgage companies and removal firms with lots of people pushing to complete before June 30th. For buyers at £500,000, the stakes were high a - a tax saving of £15,000 was not to be sniffed at!
To give you an indication of what busy looks like, we have been Lancaster's biggest selling estate agent for over 20 years. In June 2019 we completed 12 sales. In June 2020 it was 11 sales. This year it was a whopping 43 sales completed!
Looking forward, the market is showing no signs of slowing. As you can see below, 75% of all sales locally are below £250,000 so there is still a stamp duty saving of up to £2500 for completions before the end of September to be had!
Here are your figures for June 2021

Property Sales
Many people think the Lancaster Housing Market is crazy busy, however, the reality is that there were just 4 extra new property sales in June 2021 when we compare to the pre-covid world of 2019.
If we compare new sales agreed to 2020, sales were down by 8%. However, don't forget June 2020 was when estate agents were experiencing pent up demand!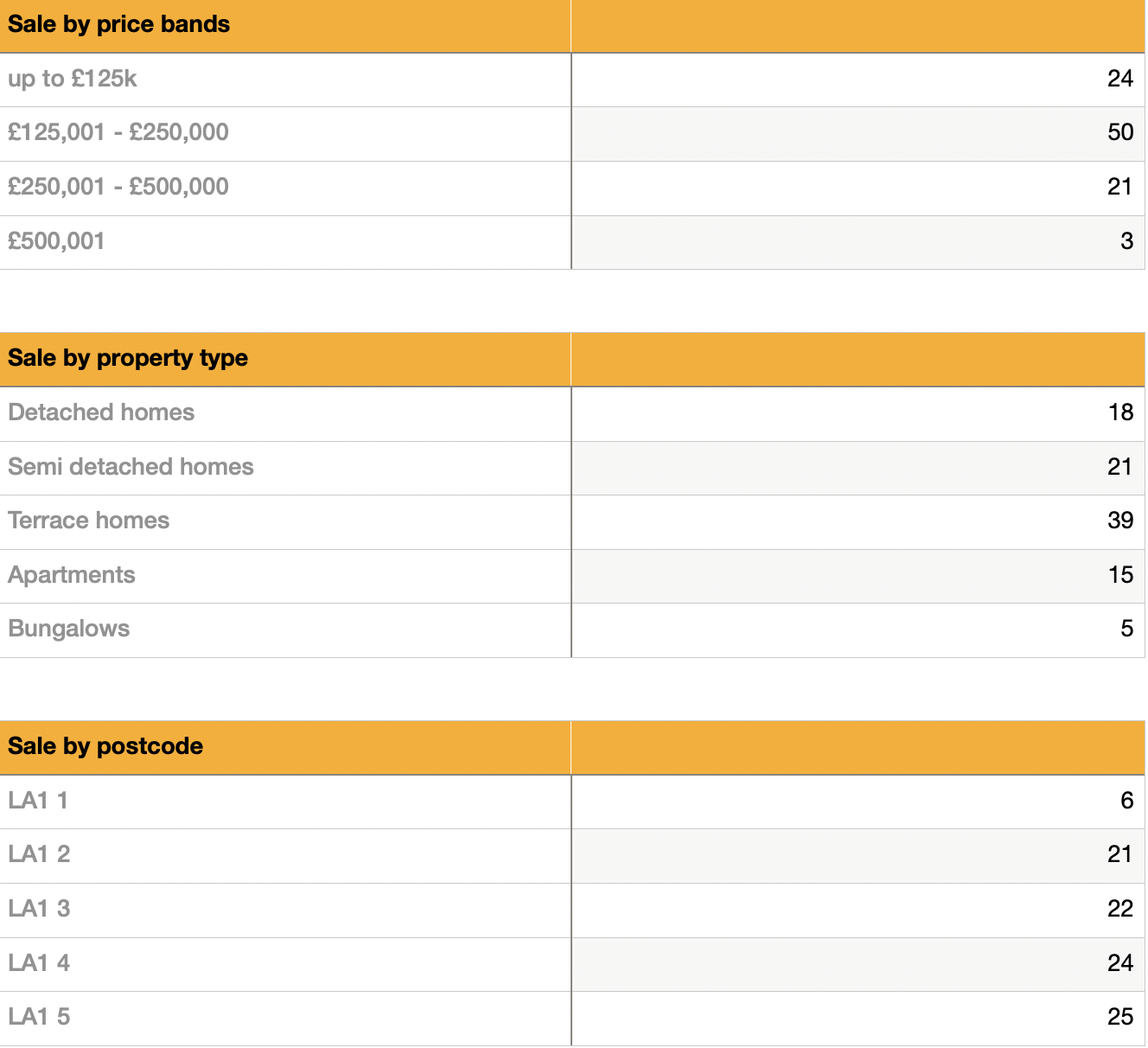 Who's buying properties?
As you can see almost 75% of all the property sales were below £250,000. It's great to see first-time buyers returning to the market and young families are also upsizing. Key reasons given for moving are still the desire for a garden and for many, the need for a home office. We are also seeing people moving to be closer to their families.
Property investors are still looking to expand their portfolios. Many of these investors are looking at 2 and 3 bed houses creating fierce competition with the first time buyer. A prime example is a 2 bedroom home in Primrose which we advertised at £127,950. We had 17 viewings booked in 24 hours. It sold over the asking price.
Sales above £500,000
In the first 6 months of 2021, there have only been 5 sales above £500,000 - surprisingly 3 of them were in the month of June. The most expensive house sale in June was a home in Bailrigg which was advertised at £850,000 followed by a fabulous home we sold on Derwent Road in Freehold at £700,000.
Properties Prices in general
Over the last 12 months, property prices have increased on average by 7.1% in Lancaster (LA1). Prices are now showing signs of levelling off with the average price of a semi-detached home only marginally higher at £176,668 and the average price of a detached home standing at £314,553.

19 agents were involved with the 99 property sales in June.
At JDG we found many of our properties were snapped quickly. Haverbreaks Place sold to a buyer who saw it as coming soon on our social media. Ashford Road, Pinfold Lane, Queen Street, Bay View Court and Peel Crescent are just some of the homes that sold in days.
We had many asking prices offers and several homes sold considerably over the asking price due to the amount of interest we had.
In June we registered another 300 people looking to buy locally. This takes us to over 1700 active buyers looking to be in our area. We know who these buyers are and what they are looking for.
Are you thinking of moving? Think JDG. We would love to help. Call us on 01524 843322

Thanks for reading

Michelle

Ps. Here is a graph from Rightmove that shows the Lancaster property sales in June 2021. As you can see, 27% of all properties sold via JDG. We really do need more homes to sell for our waiting buyers!