Welcome to the first housing market report for 2022. It's been a busy start to the New Year, busier than many people expected after a seasonal slow down in December. When we re-opened after the New Year on January 4th, it has felt like those house buyers have been back out looking in full force. Many buyers are now starting to get frustrated - it is not unusual to hear that over 15/20 viewings have been booked on a home in Lancaster and that they are all proceedable buyers. We have had buyers upset that they have missed out and other buyers saying they are getting desperate.
However, the UK housing market is starting to show early signs of stabilizing. Rightmove reported that in the last week of January, new listings to their website were up by 8%. Here in Lancaster, they were actually up by just over 20%.
We are now seeing more people getting their homes valued, ready for a Spring move. Back in our agency, valuations booked in January were up by 53%. What is really great news is that we already have 16 new properties lined up ready to hit the market in February. Simply put, we expect there will soon be properties to choose from soon!
Here are your figures for January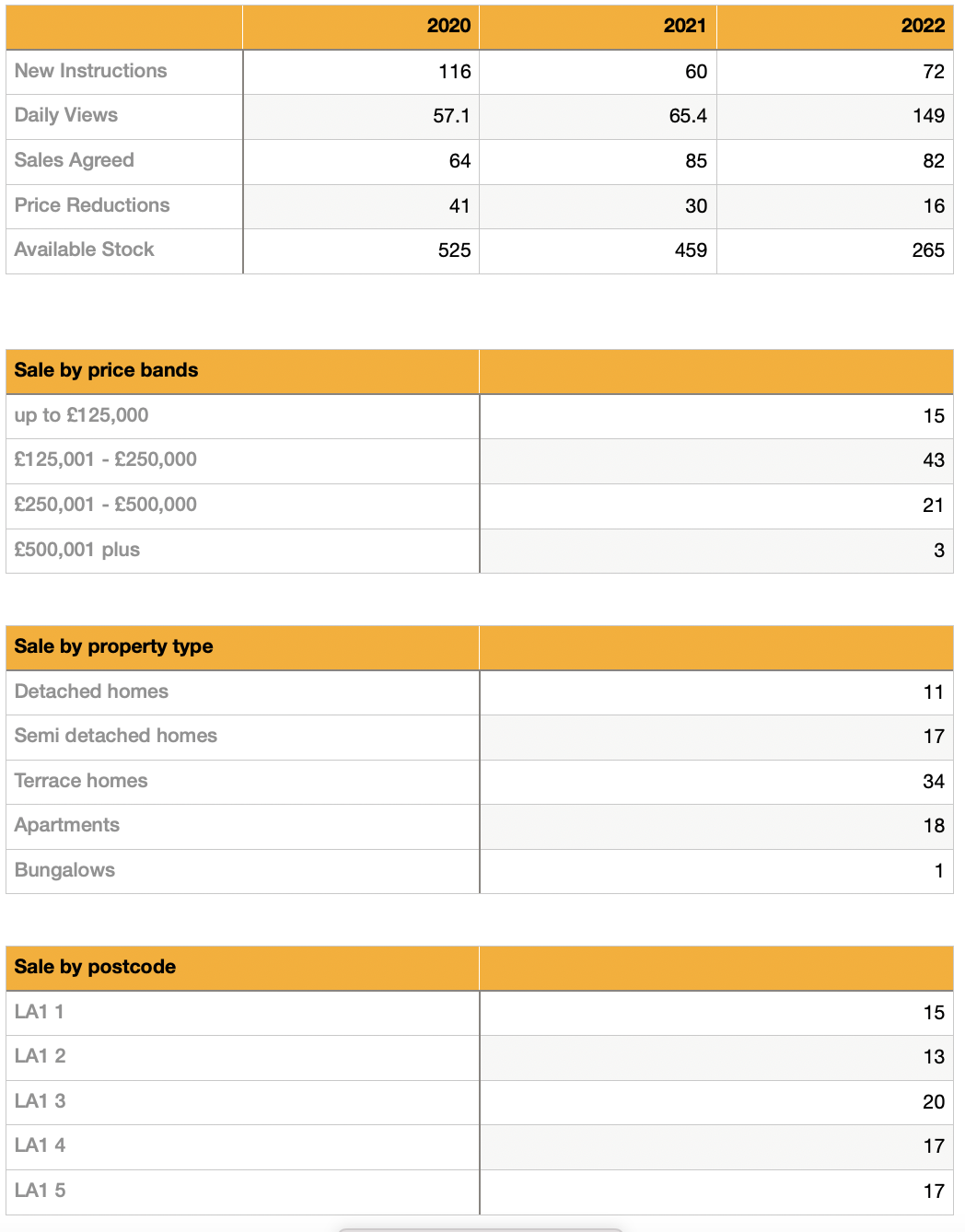 Property Prices
The average price of a home in Lancaster (LA1) now stands at £169,399. This is an increase of £2711. In the last 12 months, the average property price has increased by 11.2%. The biggest increase over the past 12 months has been in the terraced market which has seen price increases of 13.8% on average.
Buyer demand
With a new year, comes a new desire to get moved. It's not unusual for people to think about moving as part of their new year's resolution. Buyer demand has doubled, the number of people looking at each property closer on Rightmove has over doubled. Much of this is due to the fact that the number of properties available for sale had dropped to 263 in January.
Struggling Properties
As we head into February there are just 158 homes for sale in LA1, however, did you know that 85 of these homes have been for sale for 12 weeks and longer. 35% of them are with one estate agent. The number of properties struggling to sell equates over half of all the properties currently listed for sale. Is your home one of them?
This month 22 agents were involved with the 82 property sales in October. At JDG we agreed 19 of these sales which equates to 23.2% of all the property sales in Lancaster (LA1).
Many of our homes sold quickly. Many sold for the full asking price, several for over asking price. When you look closely at the figures we achieved on average 98.6% of the asking prices for our selling clients in January, compared to an area average of 95.2%. A new home on Toll Bar Crescent had 10 viewings and received 6 offers. It sold over the asking price. Ashfield Avenue quickly had 19 viewings booked in. Newsham Road had 26 viewings and received a whopping 23 offers. As you can see, buyers are still looking and actively buying!
In January we registered 304 new buyers on our system. We still have over 600 active buyers looking to buy locally. We need to help them find somewhere. Do you have a home to sell?
Are you thinking of moving? Think JDG. We would love to help. Call us on 01524 843322
Thanks for reading
Michelle
Ps. Did you know? We have just been ranked as the Best Estate Agent in the UK by Rightmove and The Property Academy. This is the highest award for any estate agent in the UK. It is judged on 3 key elements - marketing, service, and results. The results are the important part for you. On average we achieve 2% more for our clients than other agents in our area.