It's four months now since the Housing Market has been back open since lockdown measures eased. Traditionally September has always been one of the busier months of the year. School Holidays come to end and peoples thoughts turn to getting moved before Christmas. This year though it is different. Holiday plans have been delayed. Whilst the kids are back at school, nobody truly knows what the future holds, we can only hope for the best as a 2nd wave of Covid hits the UK.
Whilst some industries are sadly struggling, the UK Housing Market is currently in full swing. The pent up demand we experienced in June and July has eased, however a new wave breed of home movers are coming through, wanting to take advantage of the stamp duty holiday. The desire to get moved by Christmas has been replaced by the need to get moved before March 31st , when the stamp duty holiday ends.
Despite the changing weather, homes with outdoor space are still in high demand. More and more people are looking for extra space, the need for a home office becoming the must have requirement for 2020.
Last month we reported that sales in Lancaster were up 54% year on year. This month property sales have increased further. The Lancaster Housing Market is up 66% year on year. What is interesting is that across the UK, sales are reported to be just 5% down.
If this demand continues, could 2020 beat 2019? We hope so, as much of the UK economy is built in the UK housing market.
Here are you figures for September 2020

New instructions
September saw a big jump in the number of new properties coming to the market. 52% more homes came to the market than they did in September 2019. Lots of conversations revolved around the stamp duty. Many home sellers we have spoken to, have moved their plans to move earlier because of this- after all the savings are significant.

Daily Views
Rightmove records the average number of daily views postcode sector by postcode sector. As you can see the number of people looking online has increased by 83%. This is a good indication of buyer demand. The average property had 65.6 daily views. JDG clients, however, averaged at 105.3. This figure is quite important. More people viewing your property online = more viewings = higher chance of successfully selling.
What sold where?
We also like to look at what sold where, the house type and also price ranges. 80.9% of all property sales are still under £250,000 in Lancaster. It is also encouraging to see that apartment sales have started to pick up after a slower start in the warmer summer months.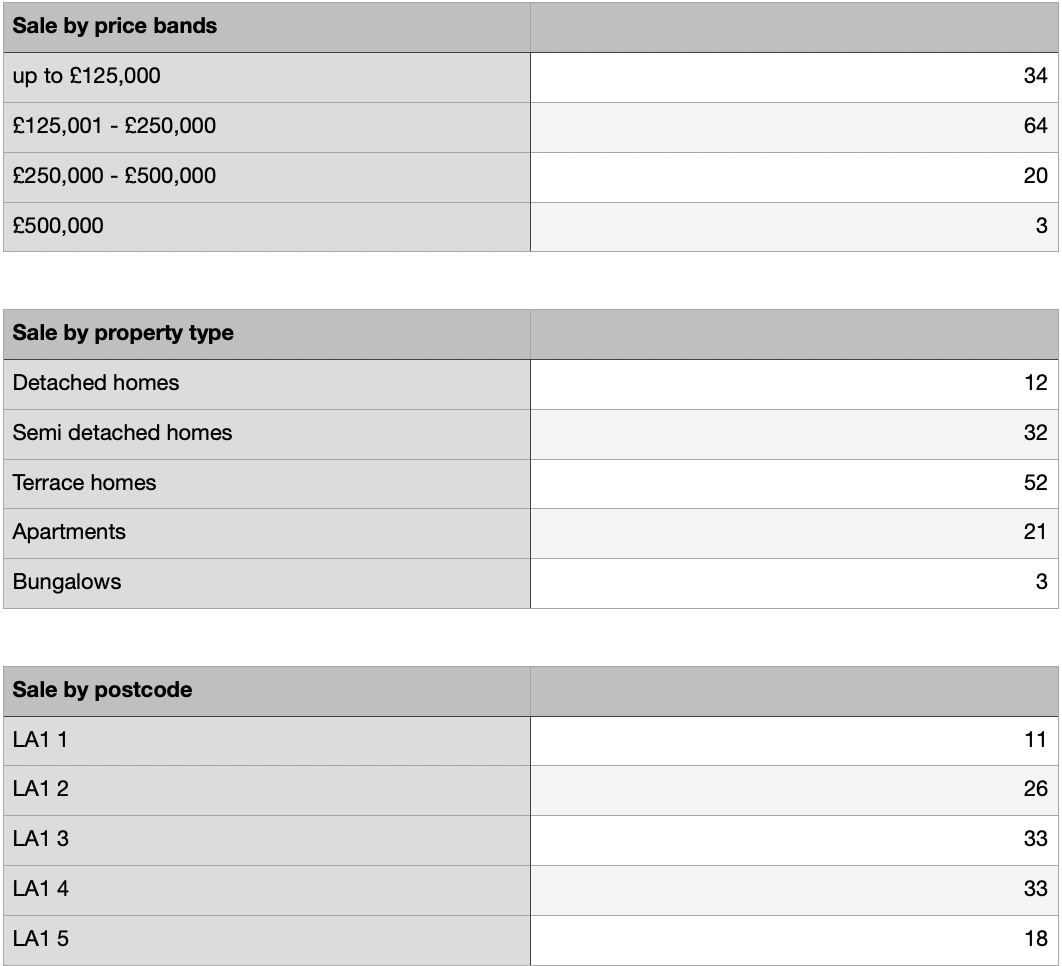 Despite the increasing demand for properties in Lancaster, property prices have still kept relatively stable. Across the postcode LA1 (which covers North, Central and South Lancaster), the average price for a 3-bed semi-detached home stands at £161,723. The average detached home is £276,073. The average terrace is just £129,370. It will be interesting to see how this changes in future months. Predicting the future is becoming more difficult, even for UK economists.
The housing market is currentky the strongest we have seen since 2006. In the last week of September, we sold 17 houses in just 1 week, hence we need more homes to sell.
18 agents were involved with the 121 property sales in September. At JDG we agreed 35 of these sales (28.9% of all the sales). Many of our properties were snapped quickly. Westbourne Road, Ingleborough Road, Ulster Road and Clarence Street were snapped up in days. Balmoral Road sold even befor it hit Rightmove.
Buyder demand is at all an time to high. In September we registered another 275 people looking to buy locally. That is now 1054 new buyers since lockdown measures eased in May.
Are you thinking of moving? Think JDG. We would love to help. Call us on 01524 843322
Thanks for reading
Michelle x
The sales figures for Lancaster - September 2020