What a strange month November has been. Buyers desperate to buy, Sellers nervous to sell. The number of homes for sale on the Lancaster market is at an all time low - almost half of where it normally would be.
The Guardian newspaper has dubbed 2021 as the race for space as buyers have rushed to snap up properties which have driven property prices upwards. It is reported that by the end of 2021, 1 in 16 homes will have changed hands, this year alone!
Because of buyer demand, over the past 12 months, property prices have been driven upwards by 11% in Lancaster. It is been one of the biggest annual growth in annual property prices in over 20 years.
A shortage of properties gives keen sellers a golden opportunity in the housing market, especially those with vacant properties keen to maximise their value.
Here are your figures for November.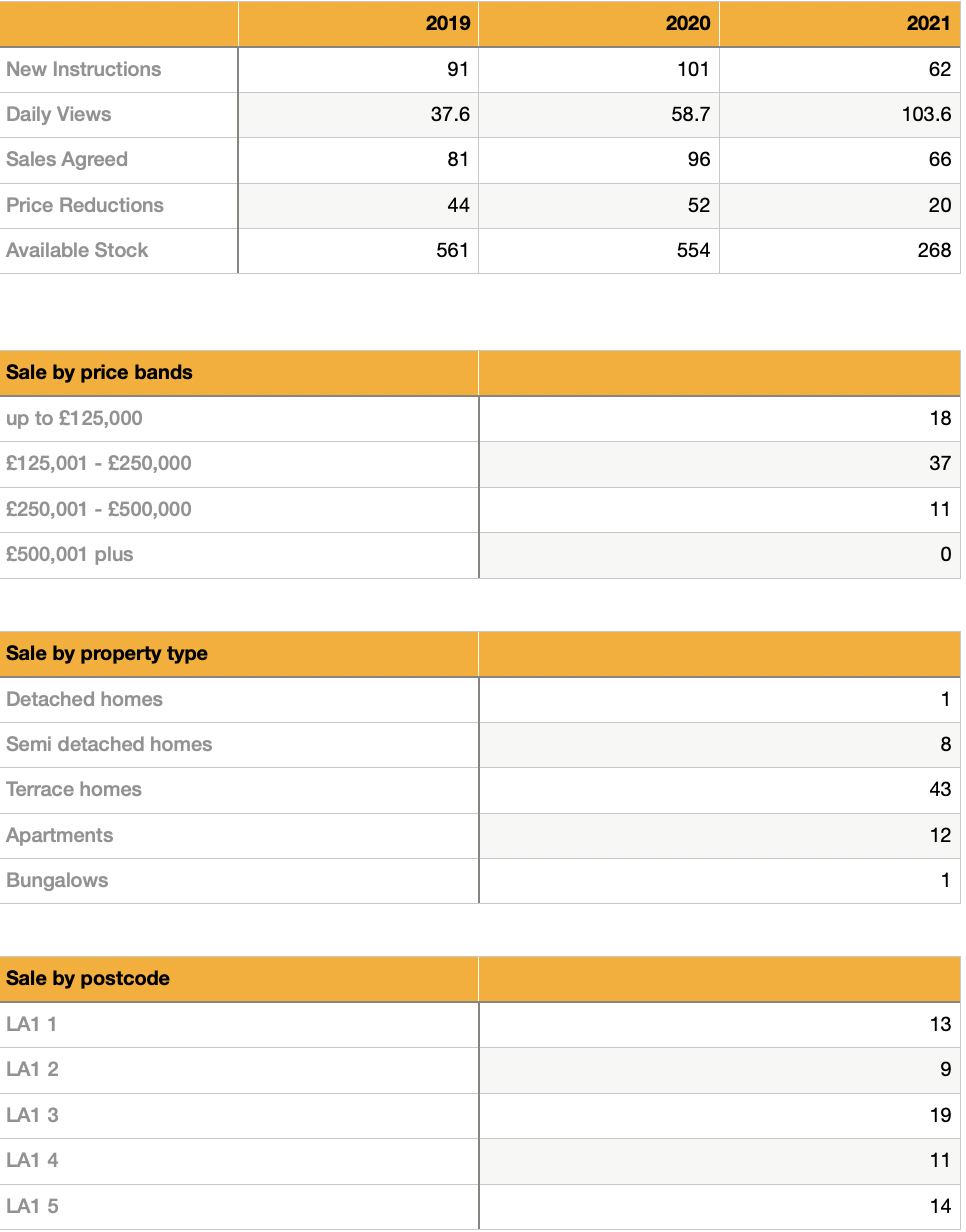 Buyer demand
Buyer demand is showing no signs of slowing, with figures not far from double last year and treble 2019. It is l18% lower than last month, however normally at this time of year, we would expect to see a drop in buyers looking.
Whilst buyer demand is up year on year, the number of new properties coming to the market has dropped significantly, hence those that are for sale can often end up with numerous interested parties and competing offers.
Struggling Properties
Whilst there have only been 268 homes available for sale in November, it is a concern that 106 of these homes have been on the market for 12 weeks and longer.
The problem is that when a market becomes short of homes to sell, some agents start to put overinflated prices on homes. It is no coincidence that almost half of these struggling homes are listed with just two estate agents!
Property Prices in general
Last month, property prices increased by £339. This month that figure has jumped upwards by £2380. We thought prices were showing signs of levelling off, however, buyer demand is pushing the prices upwards.
This month 14 agents were involved with the 66 property sales in November.
At JDG we agreed on 20 of these sales which equate to 30.3% of all the property sales in Lancaster (LA1).
Many of our homes sold quickly. Many sold for the full asking price, several for over asking price. When you look closely at the figures we achieved on average 98.9% of the asking prices for our selling clients in November, compared to an area average of 95.2%.
A new home Willow Lane had 31 viewings booked in and received 25 offers. It sold over the asking price. Clarence Street had 24 viewings booked in and received 5 offers. A 4 bed home on Colchester Avenue had 8 viewings and received 5 offers. As you can see, buyers are still looking and actively buying!
In November we registered 217 buyers on our system. We still have over 600 active buyers looking to buy locally. We need to help them find somewhere. Do you have a home to sell?
Are you thinking of moving? Think JDG. We would love to help. Call us on 01524 843322
Thanks for reading
Michelle
Ps. Did you know? We have just been ranked as the Best Estate Agent in the UK by Rightmove and The Property Academy. This is the highest award any estate agent in the UK can win. It is judged on 3 key elements - marketing, service and results. The results are the important part for you. On average we achieve 2% more for our clients than agents in our area.
Below is a graph of our performance in November 2021. At JDG we really do get our properties sold!