It's now 2 full months since estate agents across the region could re-commence physical viewings. It's been an interesting time as estate agents adapt to a new normal. Most people are understanding of the government guidelines. Facemask and gloves have become mandatory and only people from the same household can view. Every home now has to have a video or walkthrough tour. It is all about minimising the risk of Covid-19. After all, your home is deemed to be your safe place and estate agents we have the responsibility to make sure we keep it this way.
If June was classed as the month of pent up demand, July was a continuation and with the announcement of the stamp duty being cut, it created a further urge in people to get moved. Within 30 minutes of the Chancellors announcement of the cut to stamp duty, Rightmove alone saw a 22% jump in traffic to its website. Sellers recognised this unexpected gift as a chance to get moved. Buyers saw it as an opportunity to actually put this saving towards their deposit or use the savings towards being able to fund any changes they would want to make to a house they could buy.
As a company we registered 236 people who want to buy in our area - that's a total of 639 since the start of May. We carried out over 400 viewings and we sold 37 properties. Our sales levels increased by 43% year on year.
As a region, July was certainly on par with June. In June 252 properties went under offer across the region. In July it increased marginally to 257. (35 different estate agents were involved with these sales, we sold 37 of them)
July 2020 v July 2019
There were 257 sales in July. Interestingly the exact same number of homes in July 2020 sold as they did in July 2019. The difference is in the split between Lancaster, Morecambe and the villages. Sales in Lancaster were up. They were up in the villages. The decrease was in Morecambe.
Lancaster
In July 2020, 85 properties sold in Lancaster. This was actually a decrease in June 2020 when 106 properties sold. It was however 9 sales higher than July 2019. In July there were 538 properties to choose from in the LA1 postcode. 125 (23%) were brand new to the market in July.
The most popular selling area in Lancaster was LA1 3 where 26 homes went under offer. This was closely followed by LA1 4 with 24 new sales agreed.
Morecambe
The picture in Morecambe was slightly different. There were 108 property sales ( 23 more than Lancaster ) and it was certainly an increase in June, however, the sales were 10% down on July 2019.
The drop appears to come as investors interest in our seaside town has waned however we are positive that once we have more certainty and progression on the future of the Eden Project North, this will change again.
In Morecambe, there were 762 properties to choose from. 132 of these were new to the market. What is interesting is that one agent has almost 35% of the properties available for sale yet they only accounted for 15% of the sales agreed. Could this be a pricing issue?
LA4 was the most popular postcode in Morecambe with 62 property sales.
The Villages
Village life is still in high demand. 64 properties sold in the villages that surround Lancaster. There were though 100 new homes that come available for sale, giving a choice of 458 properties to choose from.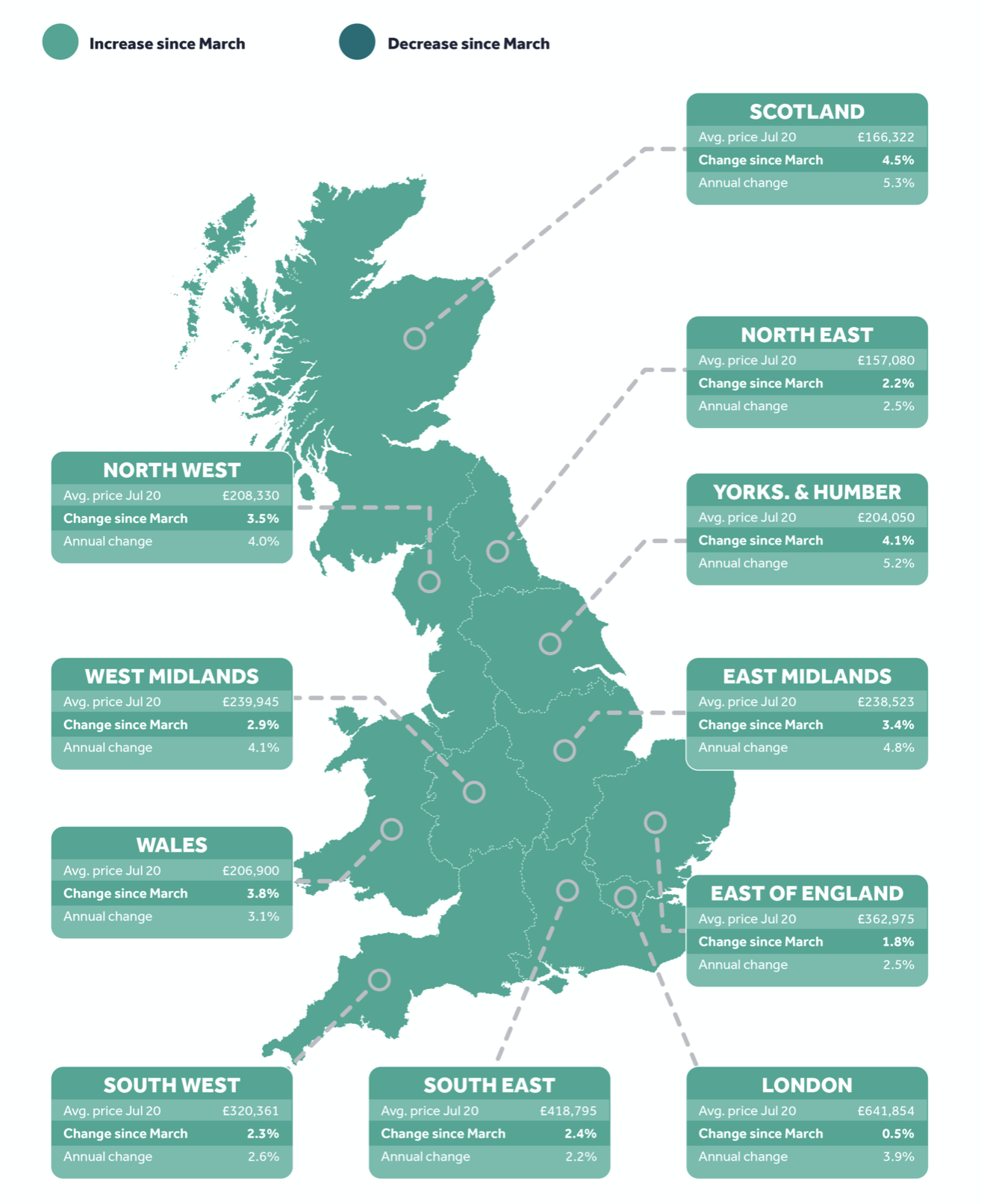 This month I thought I would share an interesting graph from Rightmove which shows how house prices have started to increase again. At JDG we have started to see this in the more popular selling areas and with homes which are close to great schools, have great gardens and are in superb condition. Many house sales are now achieving offers at the full asking prices or very close.
It is important to note though that overall this increase is just over 3%. Equally out there we are seeing lots of properties hit the market at exceptionally high prices, hence these are the ones which are struggling to sell or even get viewings.
If you are thinking of moving and you would like to know what your home could be worth, please get in touch. Our valuations are carefully researched to ensure we always do our best for our clients. Our role is to get you the best price for your home without overvaluing. This is a changing market and one which we are observing very closely.
If you'd like to talk property, please get in touch. My name is Michelle Gallagher. Call me on 01524 843322 or email me at michelle@jdg.co.uk